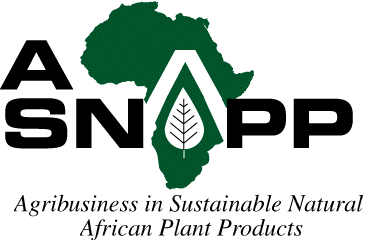 ---
---
Sustainable development: creating long-term opportunities for future generations
Plant products sustain life. Since time immemorial, human beings have depended on plants for food, medicine, shelter, clothing, and cosmetics - even the air we breathe. In Africa, the relationship between plants and people takes on a special significance as rural communities and small businesses strive to achieve economic growth without the technology, business networks, and information resources they need to compete in the rapidly changing worldwide botanicals market.
Sustainable development of natural plant products offers African small farmers and businesses the opportunity to gain a foothold in the burgeoning worldwide market for botanical ingredients. By providing entrepreneurs with the tools, education, and contacts they need to produce and market top quality organic natural plant products, sustainable development helps struggling farmers and businesses create a profitable niche for themselves in a highly competitive market.
A-SNAPP: a powerful alliance for sustainable growth
The Agribusiness in Sustainable Natural African Plant Products (A-SNAPP) alliance was created to help develop and implement successful, sustainable African natural products businesses that will provide income, employment, and economic development in African rural communities. A-SNAPP is dedicated to fostering economic growth through socially conscious and environmentally sustainable production of high quality, healthful natural products for local, regional, and overseas markets. These products can include specialty food plants such as spices, herbal teas, and "functional food" ingredients; medicinal raw materials and formulas; aromatic plants, essential oils, and other flavor and fragrance products; and dietary supplements, all of which are rapidly expanding markets.
A-SNAPP's vision is three-fold: to promote sustainable production of high quality African natural plant products, to develop and enhance small African farms and natural plant product businesses while protecting environmental resources, and to improve the quality of life in African rural communities.
The A-SNAPP focus
¥ Improving the supply of economically viable, sustainably produced, superior quality natural plant products to local, regional, and overseas markets
¥ Developing a network of African growers, environmentalists, researchers, processors, distributors, and exporters of natural plant products
¥ Facilitating intra-African and global information systems in the natural products subsectors
¥ Strengthening and enhancing the natural products subsector and its capacity to contribute to economic growth among rural entrepreneurs
¥ Encouraging the sustainable collection and production of both indigenous and introduced natural plant products
A strategy for sustainable financing
Supported by funding from the US Agency for International Development (USAID), A-SNAPP is a three-year collaborative project between the Herb Research Foundation (HRF) of Boulder, CO, Purdue University of West Lafayette, IN, and the Agricultural Research Council (ARC) of South Africa. By providing marketing assistance, quality management, and training, these partner organizations are working to help African growers and entrepreneurs achieve excellence in the production of competitive, world-class natural products.
Currently, the A-SNAPP partners have undertaken a focused effort to assess, track, and communicate market needs and forces in the international botanicals marketplace, as well as to engage botanical buyers, marketers, scientists, and other key links in the U.S. and Europe to work directly with African producers. To ensure the future success of the project, A-SNAPP is determined to develop long-term funding which will enable its activities to continue, assisting companies, farmers, scientists, and other stakeholders through innovative self-funding mechanisms and corporate partnerships.
Sustainable development: solutions that change lives
Sustainable development projects like A-SNAPP's improve quality of life for rural Africans - boosting local economies with earth-friendly agriculture and providing communities with training, jobs, and better access to low-cost botanical medicines. They also provide a source of high quality, pesticide-free herbs, spices, and other botanicals for the worldwide market. A-SNAPP has ongoing and planned projects across the African continent, from the rain forest of Madagascar to the arid plains of West Africa.
Sustainable cinnamon production in Madagascar
The island of Madagascar is home to some of the world's few remaining stands of untouched primary rain forest. Unfortunately, a long history of "slash and burn" agriculture has dramatically reduced these forests as sections are cut and converted to cultivation of rice or other crops. After a few years, productivity declines and weed species take over, leading farmers to cut a new section of forest. The destruction of the Madagascar rain forest and other wild areas of this magnificent island nation is one of the world's greatest environmental catastrophes.
A-SNAPP is participating in an innovative conservation program in Madagascar. Cinnamon (Cinnamomum zeylanicum) grows wild throughout the Madagascar rain forest. Traditional harvest for production of cinnamon bark essential oil entails cutting down mature trees and stripping the bark. Under the new program, cinnamon collectors learn how to create new cinnamon plantations by clearing competing underbrush from previously deforested areas, encouraging the growth of young cinnamon trees. Within one year, enough cinnamon leaves are available for production of cinnamon leaf oil, another marketable product. Leaf harvest continues for three years until the trees have reached maturity, after which some of the trees are harvested for bark. The newly harvested area is then returned to leaf production until the next crop of young trees reaches maturity.
The end result: Ancient forests containing mature cinnamon trees are left in an untouched state, and harvesters are part of a unique conservation program with a sustainable economic return.
Keeping pace with change in South Africa
In pursuing its pilot project in South Africa, A-SNAPP is faced with three main challenges: to develop cash crops for low-income farmers, to help protect wild plant populations through cultivation of over-collected species used in traditional medicine, and to foster regional production of traditional herbal remedies.
Sustainable herb cultivation offers small farmers in South Africa an opportunity to gain a foothold in a highly competitive market traditionally dominated by large, well-established producers. In the KwaZulu Natal province of South Africa, members of the KWANALU farmer's union (an association of more than 30,000 farmers) have been experimenting with a variety of test crops, including hibiscus flowers (Hibiscus sabdariffa). Farmers have converted some of the land in the sugar-growing region to production of hibiscus for the herbal tea industry. After one year, the KWANALU farmer's union reported higher income from the hibiscus crop than from any other crop previously grown.
The A-SNAPP project also promises other, equally important benefits. As growing numbers of South Africans migrate from rural to urban areas, they are losing access to the traditional remedies that form much of the basis of their self-care. At the same time, the increasing demand for wild South African medicinal plants for export and domestic use has created great environmental pressure on local plant populations. The situation has forced the closing of some areas to collection, further increasing the pressure on other areas.
Exhaustion of botanical resources presents a threat to the environmental well being and biodiversity of South Africa, but would also result in the elimination of the traditional medicine system on which up to 80% of the South African people still rely. With these factors in mind, A-SNAPP is currently exploring the development potential of several South African plant species widely used in traditional medicine and as export crops.
The Wupperthal Tea Grower's Association has been growing and marketing rooibos (Aspalathus linearis), a local plant with antioxidant properties, for use by South African companies and also as a dietary supplement and tea ingredient in the U.S. and Japan. A-SNAPP is also working with farmers to establish cultivation techniques for buchu (Agathosma betulina) and devil's claw (Harpagophytum procumbens), two increasingly endangered plants with a long history of use in traditional African medicine. The essential oil of buchu is widely used by the perfumery industry, and devil's claw is valued as a remedy for arthritis in Europe and the U.S.
A vision for the future
A major part of A-SNAPP's mission is to assess the global need for natural products and to determine which African nations can best fulfill these needs. A-SNAPP is inviting the participation of several African nations, primarily from South and West Africa, with a view towards capitalizing on the strengths each country has to offer. A-SNAPP plans to develop sustainable cultivation programs for a wide variety of plants, from indigenous species that are abundant in their native habitats, to introduced crops, to native African plants that are now critically endangered.
A good example of a plant that must be protected through cultivation is pygeum (Prunus africana), widely used around the world to improve prostate health. Currently, the survival of this valuable wild tree is uncertain after recent widespread destruction of mature pygeum forests in Madagascar and Cameroon, and the cost of pygeum on the worldwide market has become prohibitively high. However, a rich opportunity for sustainable pygeum production exists in South Africa, Madagascar, Cameroon, and other African nations. A-SNAPP plans include a pilot project for preservation of pygeum under a program that will first monitor the harvest of bark so that trees are not killed, and next start plantations of young trees that will ultimately serve as a sustainable, long-term future source of this high-potential botanical ingredient.
Building sustaining partnerships
The following organizations bring a unique blend of expertise to A-SNAPP in the areas of plant propagation, sustainable cultivation practices, quality management, harvest techniques, post-harvest production, and international marketing of botanical products. From the United States to the South African peninsula, the organizations featured here are building a bridge to sustainable cultivation that will benefit the whole world.
Herb Research Foundation (HRF)
Based in Boulder, Colorado, HRF is an internationally recognized, nonprofit organization dedicated to improving world health through the informed use of botanicals. Founded in 1983, HRF has been involved in a series of international development projects fostering sustainable herb cultivation all over Africa. As primary project manager, HRF directs and coordinates A-SNAPP projects and activities and provides expertise in the areas of market research, technology transfer, quality management, and training. In addition, HRF is the key organization involved in establishing linkages between African ventures and American and European companies. HRF and the rest of the A-SNAPP team organize multiple annual market linkage workshops within Africa, as well as annual research visits to the U.S. for African delegates who want to learn firsthand about the U.S. natural products industry.
Purdue University
Purdue University, a leader in horticulture, production, and processing of aromatic and medicinal plants, offers years of expertise in research and development to help African companies produce superior natural plant products. With its Center for New Crops and Plant Products, Purdue University has built an impressive track record of assisting with new crop development and the commercialization of natural plant products throughout the world. In 1993, Jim Simon, Ph.D. brought his expertise to the rapidly evolving natural products field, founding an educational program called An International Training Program in New Crops: Aromatic and Medicinal Plants. This multidisciplinary program is the first of its kind to provide specialized assistance and training in aromatic and medicinal plants, essential oils, and the commercialization of botanicals. Dr. Simon is also co-founder of the award-winning NewCROP online database (www.hort.purdue.edu\newcrop), one of the most comprehensive online sources of horticultural information on traditional and specialty crops.
South African Agricultural Research Council (ARC)
ARC is an agricultural research organization with extensive expertise in specialty horticulture. Its mission is to balance South Africa's vast agricultural needs and challenges with a responsibility to protect the environment for future generations. The organization provides research and technology services to rural and commercial farmers through 15 research institutes comprising a network of experimental farms and a staff of 4,000 people. In conjunction with HRF and USAID, in 1998 ARC-Elsenburg launched a natural plant products project to sustainably develop native and non-native botanical crops for the worldwide market. South African horticulturalist Elton Jefthas serves as project manager. Another important goal of ARC's natural products program is to cultivate endangered native plants such as buchu as a means of providing low-cost botanical medicine for the South African people.
U.S. Agency for International Development (USAID)
A-SNAPP's work is made possible by a grant from the U.S. Agency for International Development (USAID). The USAID Office of Sustainable Development partners with African organizations to design improved programs, strategies, and market driven agribusiness trade opportunities that provide a win-win situation for both U.S. and African agribusiness communities. This is in keeping with USAID's goal of strengthening Africans' own capacity for progressive development. USAID facilitates the transfer of technology by bringing together the expertise of U.S. universities with African and international research centers to improve African competitiveness in the international marketplace.
A-SNAPP Needs Your Support
Your help can make a world of difference to emerging African businesses struggling to prosper. You can participate in the A-SNAPP success story by contracting with farmers to grow herbs, by agreeing to purchase crops, or by providing technical assistance, seeds, specifications, or funding. In particular, A-SNAPP needs corporate partners to ensure the future economic sustainability of the venture. Contact Margaret Blank at (303) 449-2265 (or email mblank@herbs.org) to discuss partnership opportunities in socially and environmentally responsible international botanical business development.
A-SNAPP
c/o Herb Research Foundation
1007 Pearl Street, Suite 200
Boulder, Colorado USA 80302

Phone: (303) 449-2265
Fax: (303) 449-7849

Email: info@herbs.org
Website: www.herbs.org

---