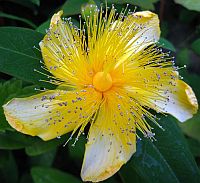 St. John's Wort has been used in the treatment of mild to moderate depression.  The following study shows it to be effective in the treatment of major depression as well.
In some countries extracts of the plant Hypericum perforatum L. (popularly called St. John's wort) are widely used for treating patients with depressive symptoms. OBJECTIVES: To investigate whether extracts of hypericum are more effective than placebo and as effective as standard antidepressants in the treatment of major depression; and whether they have fewer adverse effects than standard antidepressant drugs.
Patients given hypericum extracts dropped out of trials due to adverse effects less frequently than those given older antidepressants (odds ratio (OR) 0.24; 95% CI, 0.13 to 0.46) or SSRIs (OR 0.53, 95% CI, 0.34-0.83). AUTHORS' CONCLUSIONS: The available evidence suggests that the hypericum extracts tested in the included trials a) are superior to placebo in patients with major depression; b) are similarly effective as standard antidepressants; c) and have fewer side effects than standard antidepressants. The association of country of origin and precision with effects sizes complicates the interpretation.

Cochrane Database Syst Rev. 2008 Oct 8;(4):CD000448.