The following article states clearly that when used properly, ginger is a safe and efective treatment for nausea during pregnancy.
Department of Midwifery, Shahid Beheshti Medical Science University, Tehran, Iran.

OBJECTIVE: The aim of this study was to determine the effects of ginger in nausea and vomiting of pregnancy. DESIGN: This was a single blind clinical trial study. SETTING: The study was conducted in a selected prenatal care clinic of Isfahan City hospitals. SUBJECTS: The subjects included 67 pregnant women who complained of nausea and vomiting from Isfahan city hospitals participated in the study. INTERVENTION: The participants were randomly assigned to two groups, an experimental group and a control group. The groups were matched according to the age, gestational age, parity, occupational status, and educational level of the participants. The experimental group received ginger 250 mg capsules for 4 days, and the control group received placebo with the same prescription form. OUTCOME MEASURES: Effects of treatment of nausea were evaluated twice daily for 4 days by a before-and-after treatment questionnaire. RESULTS: The mean ages of the experimental and control groups were 24.1 +/- 4.8 and 23.3 +/- 5 years, respectively. The mean gestational age was 13 +/- 3 weeks, and the mean parity was 1.6 +/- 0.8. The ginger users demonstrated a higher rate of improvement than the placebo users did (85% versus 56%; p < 0.01). The decrease in vomiting times among ginger users was also significantly greater than among the women who received the placebo (50% versus 9%; p < 0.05). DISCUSSION: A daily total of 1000 mg of ginger in a capsule preparation can be suggested by care providers as a means of decreasing pregnancy nausea and vomiting in women who tend to herbal medicines. CONCLUSION: Ginger is an effective herbal remedy for decreasing nausea and vomiting during pregnancy.

PMID: 19250006 [PubMed - indexed for MEDLINE]

J Altern Complement Med. 2009 Mar;15(3):243-6.

The following article gives valuable information on the importance of B12 and folic acid when considering cognitive function in the elderly.
Elderly people is a vulnerable population group to specific nutrient deficiencies as vitamin B12 and folic acid, which are closely related to mental functions deterioration, especially of cognitive functions. This study was aimed to measure B12 vitamin and folic acid indicators and to establish relationships to mental function. 53 elderly, older than 60 years, living in a geriatric home were assessed. The dietary intake was evaluated by the direct weighed method, serum B12 vitamin and folic acid by radioimmunoanalysis and mental function by Foltein's mini-mental test. Dietary intake for Vit B12 was adequate and deficient for folic acid while serum levels were within normal range. Vitamin B12 levels were at marginal or deficiency values in 26,4% of the elderly and folic acid deficiency was present in 43.4%. 49% of the elderly had mental function alterations and B12 vitamin levels were significantly lower in this group. A positive association between age and mental function (elderly below 80 years had lower risk of mental impairment) and between serum B12 and mental function were found. Elderly were at risk of deficiency for both vitamins and age and mental function were associated to this risk. Further evaluation including other nutrients should be performed.

PMID: 15782537 [PubMed - indexed for MEDLINE]

Invest Clin. 2005 Mar;46(1):53-63.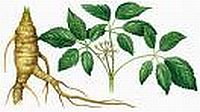 Ginseng is an herb which should be considered when dealing with immune function, psychologic function (stress), and diabetes.  This herb has a long history of use in Asian cultures.  While this article refers to Panax ginseng another plant with slightly different properties which should also be considered is American ginseng. 
The herbal remedies referred to as "ginseng" are derived from the roots of several plants. One of the most commonly used and researched of the ginsengs is Panax ginseng, also called Asian or Korean ginseng. The main active components of Panax ginseng are ginsenosides, which have been shown to have a variety of beneficial effects, including anti-inflammatory, antioxidant, and anticancer effects. Results of clinical research studies demonstrate that Panax ginseng may improve psychologic function, immune function, and conditions associated with diabetes. Overall, Panax ginseng appears to be well tolerated, although caution is advised about concomitant use with some pharmaceuticals, such as warfarin, oral hypoglycemic agents, insulin, and phenelzine. Panax ginseng does not appear to enhance physical performance. Products with a standardized ginsenoside concentration are available.

Am Fam Physician. 2003 Oct 15;68(8):1539-42.

Food for thought before entering the drive through line at the fast food restaurant, is this a good choice?
Although nutrition experts might be able to navigate the menus of fast-food restaurant chains, and based on the nutritional information, compose apparently 'healthy' meals, there are still many reasons why frequent fast-food consumption at most chains is unhealthy and contributes to weight gain, obesity, type 2 diabetes and coronary artery disease. Fast food generally has a high-energy density, which, together with large portion sizes, induces over consumption of calories. In addition, we have found it to be a myth that the typical fast-food meal is the same worldwide. Chemical analyses of 74 samples of fast-food menus consisting of French fries and fried chicken (nuggets/hot wings) bought in McDonalds and KFC outlets in 35 countries in 2005-2006 showed that the total fat content of the same menu varies from 41 to 65 g at McDonalds and from 42 to 74 g at KFC. In addition, fast food from major chains in most countries still contains unacceptably high levels of industrially produced trans-fatty acids (IP-TFA). IP-TFA have powerful biological effects and may contribute to increased weight gain, abdominal obesity, type 2 diabetes and coronary artery disease. The food quality and portion size need to be improved before it is safe to eat frequently at most fast-food chains.

PMID: 17452996 [PubMed - indexed for MEDLINE]

Int J Obes (Lond). 2007 Jun;31(6):887-90. Epub 2007 Apr 24.

The following review gives valuable information for pregnant women and new mothers concerning the appropriate levels of iodine content in breast milk.
OBJECTIVE: The aim of this review is to explore information available regarding iodine secretion in milk, both mothers and infants iodine nutrition during breastfeeding and to make recommendations for appropriate iodine supplementation during lactation. DESIGN: MEDLINE was queried for studies between 1960 and 2007 that included lactation and breastfeeding with iodine and iodine deficiency. Studies were selected if they studied (i) Secretion of iodine in breast milk; (ii) breastfeeding and iodine nutrition; (iii) factors affecting maternal iodine metabolism and (iv) recommendations for iodine supplementation during breastfeeding. RESULTS: Thirty-six articles met the selection criteria. The iodine content of breast milk varies with dietary iodine intake, being lowest in areas of iodine deficiency with high prevalence of goitre. Milk iodine levels are correspondingly higher when programs of iodine prophylaxis such as salt iodization or administration of iodized oil have been introduced. The small iodine pool of the neonatal thyroid turns over very rapidly and is highly sensitive to variations in dietary iodine intake. Expression of the sodium iodide symporter is up-regulated in the lactating mammary gland which results in preferential uptake of iodide. In areas of iodine sufficiency breast milk iodine concentration should be in the range of 100-150 microg/dl. Studies from France, Germany, Belgium, Sweden, Spain, Italy, Denmark, Thailand and Zaire have shown breast milk concentrations of < 100 microg/l. Adequate levels of iodine in breast milk have been reported from Iran, China, USA and some parts of Europe. CONCLUSIONS: Adequate concentration of iodine in breast milk is essential to provide for optimal neonatal thyroid hormone stores and to prevent impaired neurological development in breast-fed neonates. In many countries of the world, low iodine content of the breast milk indicates less than optimum maternal and infant iodine nutrition. The current WHO/ICCIDD/UNICEF recommendation for daily iodine intake (250 microg for lactating mothers) has been selected to ensure that iodine deficiency dose not occur in the postpartum period and that the iodine content of the milk is sufficient for the infant's iodine requirement.

PMID: 19178515 [PubMed - indexed for MEDLINE]

Clin Endocrinol (Oxf). 2009 May;70(5):803-9. Epub 2008 Oct 6.