The following review article shows the importance of B6 levels and the role that this vitamin plays in anemia during pregnancy.
Iron deficiency is the most common cause of anemia in pregnancy. Pregnant women with anemia are, in general, exclusively treated with iron supplementation. We observed that several pregnant women with anemia who were nonresponsive to iron supplementation also had vitamin B6 deficiency, and that anemia in these cases improved with the administration of vitamin B6. Our prospective study in healthy pregnant women showed that blood levels of iron, ferritin and vitamin B6, in particular, fell to the lower limit of the nonpregnant reference range by the third trimester. We conclude that it is important to take into account the deficiency of vitamin B6 besides iron in the evaluation of anemia during pregnancy.European Journal of Clinical Nutrition advance online publication, 18 November 2009; doi:10.1038/ejcn.2009.125.

PMID: 19920848 [PubMed - as supplied by publisher]

The following review article supports the usefulness of cranberries in the prevention of urinary tract infections.
BACKGROUND: Cranberries (particularly in the form of cranberry juice) have been used widely for several decades for the prevention and treatment of urinary tract infections (UTIs). The aim of this review is to assess the effectiveness of cranberries in preventing such infections. OBJECTIVES: To assess the effectiveness of cranberry juice and other cranberry products in preventing UTIs in susceptible populations. SEARCH STRATEGY: Electronic databases and the Internet were searched using English and non English language terms; companies involved with the promotion and distribution of cranberry preparations were contacted; reference lists of review articles and relevant trials were searched. Cochrane Central Register of Controlled Trials (CENTRAL – the Cochrane Library, issue 1, 2003) was searched in February 2003. SELECTION CRITERIA: All randomised or quasi randomised controlled trials of cranberry juice/products for the prevention of urinary tract infections in susceptible populations. Trials of men, women or children were included. DATA COLLECTION AND ANALYSIS: Two reviewers independently assessed and extracted information. Information was collected on methods, participants, interventions and outcomes (urinary tract infections (symptomatic and asymptomatic), side effects and adherence to therapy). RR were calculated where appropriate, otherwise a narrative synthesis was undertaken. Quality was assessed using the Cochrane criteria. MAIN RESULTS: Seven trials met the inclusion criteria (four cross-over, three parallel group). The effectiveness of cranberry juice (or cranberry-lingonberry juice) versus placebo juice or water was evaluated in six trials, and the effectiveness of cranberries tablets versus placebo was evaluated in two trials (one study evaluated both juice and tablets). In two good quality RCTs, cranberry products significantly reduced the incidence of UTIs at twelve months (RR 0.61 95% CI:0.40 to 0.91) compared with placebo/control in women. One trial gave 7.5 g cranberry concentrate daily (in 50 ml), the other gave 1:30 concentrate given either in 250 ml juice or in tablet form. There was no significant difference in the incidence of UTIs between cranberry juice versus cranberry capsules (RR 1.11 95% CI:0.49 to 2.50). Five trials were not included in the meta-analyses due to methodological flaws or lack of available data. However, only one reported a significant result for the outcome of symptomatic UTIs. Side effects were common in all trials, and dropouts/withdrawals in several of the trials were high. REVIEWERS' CONCLUSIONS: There is some evidence from two good quality RCTs that cranberry juice may decrease the number of symptomatic UTIs over a 12 month period in women. If it is effective for other groups such as children and elderly men and women is not clear. The large number of dropouts/withdrawals from some of the trials indicates that cranberry juice may not be acceptable over long periods of time. In addition it is not clear what is the optimum dosage or method of administration (e.g. juice or tablets). Further properly designed trials with relevant outcomes are needed.

PMID: 15106157 [PubMed - indexed for MEDLINE]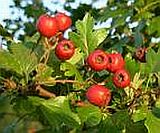 Hawthorn or Crataegus has a long history of use for heart conditions.  After reviewing many studies the consistent conclusion was Hathorn has benefits when treating a variety of conditions of the heart.
Crataegus (hawthorn) has long been used as a folk medicine all around the world. Most of the studies with Crataegus species focus on effects on heart failure and cardiovascular disease. The pharmacological effects of Crataegus have been attributed mainly to the content of flavonoids, procyanidin, aromatic acid and cardiotonic amines. The present study investigated the blood pressure and the structure of the coronary arterial wall of L-NAME-induced hypertensive rats given an aqueous leaf extract of C. tanacetifolia (100 mg/kg), for 4 weeks via gavage. It was observed that C. tanacetifolia, especially the hyperoside fraction, prevented L-NAME-induced hypertension in rats and had beneficial effects on the cardiovascular system. Copyright 2006 John Wiley & Sons, Ltd.

Phytother Res. 2006 Jan;20(1):66-70.
This review article gives information on natural products and their anti-inflammatory activity due to the herbs that the products contain.  These anti-inflammatory herbs need to be considered for many applicatioins in overall health as well as their roll in prevention of conditions.
The aim of this review paper was to summarise some commonly available natural products and their anti-inflammatory activity. We have collected data from MEDLINE, Current Contents and scientific journals, which included 92 publications. There are numerous natural products detailed in this literature; however we have summarized a few of the most commonly available and potent ones. In this paper, the natural products with anti-inflammatory activity including curcumin, parthenolide, cucurbitacins, 1,8-cineole, pseudopterosins, lyprinol, bromelain, flavonoids, saponins, marine sponge natural products and Boswellia serrata gum resin were reviewed. Natural products play a significant role in human health in relation to the prevention and treatment of inflammatory conditions. Further studies are being conducted to investigate the mechanism of action, metabolism, safety and long term side effect of these natural products, as well as interactions between these natural products with food and drug components.
PMID: 16672197 [PubMed - indexed for MEDLINE]

Omega-3 fatty acids are proving to be beneficial in many areas of overall health.  The article below gives positive information on the benefits of omega-3 fatty acids for the treatment of cardiovascular disease.
OBJECTIVE: To examine evidence for the role of omega-3 fatty acids in cardiovascular disease. QUALITY OF EVIDENCE: PubMed was searched for articles on the role of omega-3 fatty acids in cardiovascular disease. Level I and II evidence indicates that omega-3 fatty acids are beneficial in improving cardiovascular outcomes. MAIN MESSAGE: Dietary intake of omega-3 fatty acids has declined by 80% during the last 100 years, while intake of omega-6 fatty acids has greatly increased. Omega-3 fatty acids are cardioprotective mainly due to beneficial effects on arrhythmias, atherosclerosis, inflammation, and thrombosis. There is also evidence that they improve endothelial function, lower blood pressure, and significantly lower triglycerides. CONCLUSION: There is good evidence in the literature that increasing intake of omega-3 fatty acids improves cardiac outcomes. Physicians need to integrate dietary recommendations for consumption of omega-3 fatty acids into their usual cardiovascular care.

PMID: 16812965 [PubMed - indexed for MEDLINE]

The latest in the  juice market is the acai berry.  This fruit has made its way to the mainstream population with  exposure on the news and shows such as Oprah.  It has been touted as the new wonder fruit with antioxidant potency greater than blueberry or pomegranate.  So is this fruit all it is cracked up to be?
When reviewing research on the potency of the acai berry there where many different studies showing different opinions on where the acai berry stands on the antioxidant spectrum.  But one thing is for sure, it is high in antioxidants.  The study listed below tested many different fruits/beverages for the antioxidant content and the winner was…..pomegranate.
A number of different beverage products claim to have antioxidant potency due to their perceived high content of polyphenols. Basic and applied research indicates that pomegranate juice (PJ), produced from the Wonderful variety of Punica granatum fruits, has strong antioxidant activity and related health benefits. Although consumers are familiar with the concept of free radicals and antioxidants, they are often misled by claims of superior antioxidant activity of different beverages, which are usually based only on testing of a limited spectrum of antioxidant activities. There is no available direct comparison of PJ's antioxidant activity to those of other widely available polyphenol-rich beverage products using a comprehensive variety of antioxidant tests. The present study applied (1) four tests of antioxidant potency [Trolox equivalent antioxidant capacity (TEAC), total oxygen radical absorbance capacity (ORAC), free radical scavenging capacity by 2,2-diphenyl-1-picrylhydrazyl (DPPH), and ferric reducing antioxidant power (FRAP)]; (2) a test of antioxidant functionality, that is, inhibition of low-density lipoprotein (LDL) oxidation by peroxides and malondialdehyde methods; and (3) evaluation of the total polyphenol content [by gallic acid equivalents (GAEs)] of polyphenol-rich beverages in the marketplace. The beverages included several different brands as follows: apple juice (3), açaí juice (3), black cherry juice (3), blueberry juice (3), cranberry juice (3), Concord grape juice (3), orange juice (3), red wines (3), iced tea beverages (10) [black tea (3), green tea (4), white tea (3)], and a major PJ available in the U.S. market. An overall antioxidant potency composite index was calculated by assigning each test equal weight. PJ had the greatest antioxidant potency composite index among the beverages tested and was at least 20% greater than any of the other beverages tested. Antioxidant potency, ability to inhibit LDL oxidation, and total polyphenol content were consistent in classifying the antioxidant capacity of the polyphenol-rich beverages in the following order: PJ>red wine>Concord grape juice>blueberry juice>black cherry juice, açaí juice, cranberry juice>orange juice, iced tea beverages, apple juice. Although in vitro antioxidant potency does not prove in vivo biological activity, there is also consistent clinical evidence of antioxidant potency for the most potent beverages including both PJ and red wine.

J Agric Food Chem. 2008 Feb 27;56(4):1415-22. Epub 2008 Jan 26.