The following article gives another use for the widely used Echinacea plant.
OBJECTIVE: During the latency period of herpes simplex virus type-1 (HSV-1), the virus can occasionally reactivate, travel back to the eye and cause recurrent ocular disease. As this condition arises from the ability of HSV-1 to produce a dormant infection, effective medication to prevent the virus enter a latent state should prevent it. In this study, we applied Echinacea polysaccharide (EP) fraction as prophylactic mediator for latency prevention. METHODS: In order to investigate the protective properties of EP, we evaluated its immunostimulatory functions on different immune aspects that play important roles in latency prevention (particularly IFN-gamma as one of the main indicators of cellular immunity and latency). Finally, we assessed establishment of latency by detection of thymidine kinase gene in trigeminal ganglia of BALB/c mice. RESULTS: We demonstrated that EP promotes immune response, leading to a reduced latency rate, and it has a promising effect on latency prevention. CONCLUSION: EP was able to exert an antiviral action on the development of recurrent HSV-1 disease when supplied prior to infection. Copyright 2009 S. Karger AG, Basel.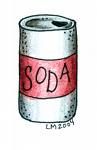 The following article states clearly the adverse effects of the over consumption of sugar-sweetened beverages.
Sugar-sweetened beverages, a major source of fructose, raise serum uric acid levels and are associated with an increased risk of gout, hypertension, and diabetes. However, it is unclear whether the associations with hypertension and diabetes are caused by fructose per se, or through some other mechanism. Nevertheless, given their demonstrated adverse health associations and the lack of any health benefit, the evidence favors minimization of sugar-sweetened beverage intake.

The following is an interesting article discussing the importance of a proper diet and herbs in the control of diseases related to aging.
Aging is associated with mitochondrial dysfunctions, which trigger membrane leakage, release of reactive species from oxygen and nitrogen and subsequent induction of peroxidative reactions that result in biomolecules' damaging and releasing of metals with amplification of free radicals discharge. Free radicals induce neuronal cell death increasing tissue loss, which could be associated with memory detriment. These pathological events are involved in cardiovascular, neurodegenerative and carcinogenic processes. Dietary bioactive compounds from different functional foods, herbs and nutraceuticals (ginseng, ginkgo, nuts, grains, tomato, soy phytoestrogens, curcumin, melatonin, polyphenols, antioxidant vitamins, carnitine, carnosine, ubiquinone, etc.) can ameliorate or even prevent diseases. Protection from chronic diseases of aging involves antioxidant activities, mitochondrial stabilizing functions, metal chelating activities, inhibition of apoptosis of vital cells, and induction of cancer cell apoptosis. Functional foods and nutraceuticals constitute a great promise to improve health and prevent aging-related chronic diseases.

Especially during the winter months people want to help support their immune function.  Incorporating Reishi mushrooms into your diet or taking in capsule form are a wonderful way to help support your immune system.
Ganoderma lucidum (Leyss. ex Fr.) Karst. (Lingzhi or Reishi) has been used for a long time in China to prevent and treat various human diseases. G. lucidum polysaccharides extracted from G. lucidum are one of efficacious ingredient groups of G. lucidum. A number of reports have demonstrated that G. lucidum polysaccharides modulate immune function both in vivo and in vitro. The immuno-modulating effects of G. lucidum polysaccharides were extensive, including promoting the function of antigen-presenting cells, mononuclear phygocyte system, humoral immunity, and cellular immunity. Cellular and molecular mechanisms, possible receptors involved, and triggered signaling cascades have also been studied in vitro. However, whole animal experiments are still needed to further establish the mechanism of the immuno-modulating effects by G. lucidum. Evidence-based clinical trials are also needed.

J Pharmacol Sci. 2005 Oct;99(2):144-53.

The following article examines the use of the herb, Ginger as as safe and effective remedy for many conditions.