Sen. Dick Durbin (D-IL) plans to introduce legislation to regulate dietary supplements more strictly. Seems the Senate has been unable to do much of anything. Maybe they can agree on some supplement bashing?
Food and drug attorney Justin Prochnow (Greenberg Traurig, Denver) comments on the issue:
Once again, Senator Durbin has taken a run at introducing legislation designed to restrict dietary supplements. The amount of inaccuracies and lack of knowledge in the press release is shocking. Durbin lumps 2 oz energy shots, which are clearly supplements, with other products. Does he really think 2 oz replaces a normal serving? He indicates that dietary supplements contain potentially unsafe additives right next to beverages that have undergone FDA approval. FDA approval? Is that a new regulation I am unaware of? While additives in foods and beverages must be approved food additives or GRAS [generally recognized as safe], there is no requirement for FDA approval and many ingredients are self-affirmed GRAS without specifically FDA approval.

As I see it, the issue is not the need for more regulations — the FDA just needs to enforce the regulations that are already on the books.
I would like to believe Durbin really has public health and safety in mind, but frankly, I don't. The press release (as usual) says the bill is "Designed to Protect Consumers of Dietary Supplements." FYI, Senator, proper use of pharmaceutical drugs kills around 300,000 Americans each year and injures two million more. ("proper use" meaning this doesn't include the additional numerous cases of overdose, suicides and accidents such as pharmacy or physician error). By comparison, supplements are responsible for fewer deaths, meaning ZERO, Senator. Of course, the Senator should know this. It's hardly new. In 1971 (!) the cost of caring for victims of drug toxicity accounted for 1/7 of hospital stays at a cost of $300 million a year. In 1998 the Journal of the AMA reported that over 2 million patients had a serious adverse drug reaction (ADR) and the 106,000 deaths put drug reactions between the 4th and 6th leading causes of death among all Americans. It seems obvious that drug toxicity, not supplement labeling, is a serious problem we need to address. Instead, Durbin is again demonizing supplements, especially "energy drinks" and "shots."
Ironically, the specific supplements he takes aim at are energy products, which owe their activity to the most often-consumed and most socially sanctioned drug in the world — caffeine.
Durbin's press release is HERE

The following information offers clear evidence that herbs and vitamins should be considered in the prevention as well as treatment of prostate cancer.
Since the use of dietary supplements as alternative treatments or adjuvant therapies in cancer treatment is growing, a scientific verification of their biological activity and the detailed mechanisms of their action are necessary for the acceptance of dietary supplements in conventional cancer treatments. In the present study we have evaluated the anti-cancer effects of dietary supplement ProstaCaid™ (PC) which contains mycelium from medicinal mushrooms (Ganoderma lucidum, Coriolus versicolor, Phellinus linteus), saw palmetto berry, pomegranate, pumpkin seed, green tea [40% epigallocatechin-3-gallate (EGCG)], Japanese knotweed (50% resveratrol), extracts of turmeric root (BCM-95®), grape skin, pygeum bark, sarsaparilla root, Scutellaria barbata, eleuthero root, Job's tears, astragalus root, skullcap, dandelion, coptis root, broccoli, and stinging nettle, with purified vitamin C, vitamin D3, selenium, quercetin, citrus bioflavonoid complex, β sitosterolzinc, lycopene, α lipoic acid, boron, berberine and 3.3′-diinodolymethane (DIM). We show that PC treatment resulted in the inhibition of cell proliferation of the highly invasive human hormone refractory (independent) PC-3 prostate cancer cells in a dose- and time-dependent manner with IC50 56.0, 45.6 and 39.0 µg/ml for 24, 48 and 72 h, respectively. DNA-microarray analysis demonstrated that PC inhibits proliferation through the modulation of expression of CCND1, CDK4, CDKN1A, E2F1, MAPK6 and PCNA genes. In addition, PC also suppresses metastatic behavior of PC-3 by the inhibition of cell adhesion, cell migration and cell invasion, which was associated with the down-regulation of expression of CAV1, IGF2, NR2F1, and PLAU genes and suppressed secretion of the urokinase plasminogen activator (uPA) from PC-3 cells. In conclusion, the dietary supplement PC is a promising natural complex with the potency to inhibit invasive human prostate cancer.
We would like to believe that our alternative natural health care media would give us the facts that the mainstream media doesn't. But do they? Or are we being fed more scare tactics than serious, objective, investigative journalism? And couldn't we please have news that steers clear of partisan attacks and punditry?
Perfect example: "Natural News." I'm sick of their fear mongering, ideological BS and hyperbole. Why does a supposedly health-focused publication run "stories" like this: "Democrats want to spend us into oblivion" and "Destroying America's economy one tax at a time." And who the hell needs yet another "news source" to "inform" us about Anthony Weiner's wiener? Ugh.
But apart from obvious right wing attack politics, many of the stories are fringe conspiracy nuttery. For example, we're supposed to take seriously their conspiracy theory that the US Army and Navy caused the earthquake and tsunami in Japan that led to the nuclear disaster still playing out there? Oh, please! The super secret HAARP transmitter, they say, is the means by which the evil empire can summon up earthquakes and tsunamis.
"Numerous credible reports and scientific observations reveal that HAARP technology is fully capable of being used as a scalar weapon, meaning it can emit strong electromagnetic pulse bombs that can alter weather or trigger seismic fault lines."
Well, how original! Hugo Chavez blamed the Haiti quake on the HAARP project, Jesse Ventura has a YouTube video on it ("a real-life doomsday machine.. that can destroy the world"), and conspiracy theorists have been blaming it for everything from cold winters in Europe to multiple earthquakes and eruptions all over the world.
Frankly, it's embarrassing for anyone who cites any article from Natural News because they regularly veer into this kind of absurd conspiracy talk.
Is Natural News just gullible? Or intentionally misleading? I think it's the latter. Check out this "quote mining" from the HAARP article. Quote mining is a well known trick to support one's point through, well, lying.
According to Natural News, former Secretary of Defense William Cohen admitted this HAARP technology exists and can control climate, volcanoes and earthquakes. Here's how Natural News quotes Cohen:
Cohen had this to say as part of his response about the type of technology that existed, even back then: "'Others are engaging even in an eco-type terrorism whereby they can alter the climate, set off earthquakes, volcanoes remotely through the use of electromagnetic waves."
Wow. Cohen admits that? FALSE! Let's look at the original quote. Cohen is talking about how "false threats" can waste time and "paralyze the agency for weeks and months and years even."
"The same thing is true about just the false scare of a threat… There are some  reports, for example, that some countries have been trying to construct something like an Ebola Virus, and that would be a very dangerous phenomenon, to say the least. Alvin Toeffler [Future Shock] has written about this in terms of some scientists in their laboratories trying to devise certain types of pathogens that would be ethnic specific so that they could just eliminate certain ethnic groups and races; and others are designing some sort of engineering, some sort of insects that can destroy specific crops. Others are engaging even in an eco- type of terrorism whereby they can alter the climate, set off earthquakes, volcanoes remotely through the use of electromagnetic waves. "
Know what? That's flat out dishonest to take a quote out of context intentionally in order to reverse its meaning. And I don't care to be terrorized by intentional distortions, by the "Health Ranger" or anyone else.
For those who don't know about HAARP (link to HAARP website at U of Alaska), it's a high altitude research project. It's not top secret: it's not classified at all. You can tour the facility in Alaska any time. The total budget is $250 million, yet we're supposed to believe they have created a Sci-Fi worthy Death Star?? For the record, the transmitter only works directly over the station in Alaska. The signal it is capable of generating is "more than 11 million times weaker (smaller) than the Earth's background field."
This is an epic fail for Natural News, but if you think it's an anomaly, take a look at the other stories on the site. What do YOU think? Truth or spin?
There are plenty of real issues to be concerned about. Do you really want your emotions jerked around by junk journalism?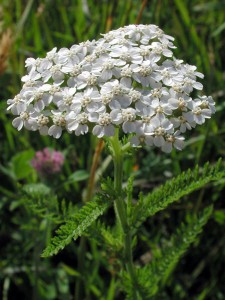 The study below supports the use of yarrow in asthma and hypertension.
Achillea millefolium Linn. (Asteraceae) is used in folk medicine for the treatment of overactive cardiovascular and respiratory ailments. This study describes its hypotensive, cardio-depressant, vasodilatory and bronchodilatory activities. The crude extract of Achillea millefolium (Am.Cr) caused a dose-dependent (1-100 mg/kg) fall in arterial blood pressure of rats under anaesthesia. In spontaneously beating guinea-pig atrial tissues, Am.Cr exhibited negative inotropic and chronotropic effects. In isolated rabbit aortic rings, Am.Cr at 0.3-10 mg/mL relaxed phenylephrine (PE, 1 µm) and high K(+) (80 mm)-induced contractions, as well as suppressed the PE (1 µm) control peaks obtained in Ca(++) -free medium, like that caused by verapamil. The vasodilator effect of Am.Cr was partially blocked by N(ω) -nitro-l-arginine methyl ester in endothelium intact preparations. In guinea-pig tracheal strips, Am.Cr inhibited carbachol (CCh, 1 µm) and K(+) -induced contractions. These results indicate that Achillea millefolium exhibits hypotensive, cardiovascular inhibitory and bronchodilatory effects, thus explaining its medicinal use in hyperactive cardiovascular and airway disorders, such as hypertension and asthma.

Phytother Res. 2011 Apr;25(4):577-83. doi: 10.1002/ptr.3303. Epub 2010 Sep 20.
Brand new meta-analysis of tea researched for lowering prostate cancer risk. The authors looked at 13 studies and found green tea significantly reduced risk. The results aren't stellar, but promising. Here's the abstract:
Observational studies on tea consumption and prostate cancer (PCa) risk
are still inconsistent. The authors conducted a meta-analysis to
investigate the association between green tea and black tea consumption
with PCa risk. Thirteen studies providing data on green tea or black tea
consumption were identified by searching PubMed and ISI Web of Science
databases and secondary referencing qualified for inclusion. A
random-effects model was used to calculate the summary odds ratios (OR)
and their corresponding 95% confidence intervals (CIs). For green tea,
the summary OR of PCa indicated a borderline significant association in
Asian populations for highest green tea consumption vs. non/lowest (OR =
0.62; 95% CI: 0.38-1.01); and the pooled estimate reached statistically
significant level for case-control studies (OR = 0.43; 95% CI:
0.25-0.73), but not for prospective cohort studies (OR = 1.00; 95% CI:
0.66-1.53). For black tea, no statistically significant association was
observed for the highest vs. non/lowest black tea consumption (OR =
0.99; 95% CI: 0.82-1.20). In conclusion, this meta-analysis supported
that green tea but not black tea may have a protective effect on PCa,
especially in Asian populations. Further research regarding green tea
consumption across different regions apart from Asia is needed.
http://www.ncbi.nlm.nih.gov/pubmed/21667398

Peppermint oil is a wonderful alternative option for those suffering from irritable bowel syndrome.
Numerous meta-analyses have recently assessed the overall clinical benefit of single therapy options and groups of therapies in the irritable bowel syndrome (IBS). By large, this should enable physicians to select from a number of therapy options available.

METHODS:

We entered dichotomous outcome data from 121 IBS trials published over the last 35 years with different groups and subgroups of drugs (antispasmodics, motility-affecting agents, antidepressants, peppermint oil), dietary interventions (bran, probiotics), and psychotherapy (cognitive behavioral, psychodynamic, hypnotherapy, relaxation techniques) into meta-analytic tools and estimate the overall efficacy (odds ratio, number needed to treat).

RESULTS:

Highest efficacy is currently found for peppermint oil, followed by psychotherapeutic and psychopharmacological interventions and probiotics. Traditional antispasmodic therapy has a moderate efficacy, whereas the list of (partially failed or cancelled) motility affecting drugs yielded weak clinical results, and therapies by bran and fibers are of no value in IBS.

CONCLUSION:

Evidence-based therapy in IBS provides a number of effective treatment options beyond the fact that many novel compounds under development have failed to reach the market. An algorithm for clinical therapy decision is proposed.
This study demonstrates why parents should speak with their pediatricians for alternative options to antibiotics.
BACKGROUND. Antibiotic exposure in early childhood is a possible contributor to the increasing asthma prevalence in industrialized countries. Although a number of published studies have tested this hypothesis, the results have been conflicting.

 OBJECTIVE. To explore the association between antibiotic exposure before 1 year of age and development of childhood asthma.

 METHODS. Using administrative data, birth cohorts from 1997 to 2003 were evaluated (N = 251817). Antibiotic exposure was determined for the first year of life. After the first 24 months of life, the incidence of asthma was determined in both those exposed and not exposed to antibiotics in the first 12 months of life. Cox proportional hazards models were used to adjust for potential confounders and determine the hazard ratios associated with antibiotic exposure for the development of asthma.

 RESULTS. Antibiotic exposure in the first year of life was associated with a small risk of developing asthma in early childhood after adjusting for gender, socioeconomic status at birth, urban or rural address at birth, birth weight, gestational age, delivery method, frequency of physician visits, hospital visit involving surgery, visits to an allergist, respirologist, or immunologist, congenital anomalies, and presence of otitis media, acute, or chronic bronchitis, and upper and lower respiratory tract infections during the first year of life. As the number of courses of antibiotics increased, this was associated with increased asthma risk, with the highest risk being in children who received >4 courses. All antibiotics were associated with an increased risk of developing asthma, with the exception of sulfonamides.

 CONCLUSIONS. This study provides evidence that the use of antibiotics in the first year of life is associated with a small risk of developing asthma, and this risk increases with the number of courses of antibiotics prescribed.

Pediatrics Vol. 123 No. 3 March 1, 2009.
pp. 1003 -1010


The following study shows the effectiveness of Pycnogenol in the treatment of tinnitus.
The aim of this preliminary evaluation was to study the efficacy of Pycnogenol in improving cochlear flow in patients with mild-to-moderate tinnitus present for at least two weeks (without vertigo or important hearing loss), possibly associated with cochlear hypo-perfusion.

METHODS:

Patients with mild-to-moderate, idiopatic, monolateral tinnitus present for at least 2 weeks were included; no vertigo or important hearing loss had been found in a specific examination. The origin of tinnitus had been sudden (hours or days). Fifty-eight patients used Pycnogenol: 24 used 150 mg/day (group A; mean age 43.2+/-4.3) and 34 patients 100 mg/day (group B: mean age 42.4+/-3.8). Controls included 24 patients (mean age 42.3+/-4.5). The groups were comparable for their clinical problem and age and sex. The average duration of treatment was 34.3+/-3.1 days. No side effects were observed and no drop-outs occurred.

RESULTS:

The variations in cochlear flow velocity (in cm/s at the cochlear artery), at inclusion and after four weeks of treatment indicated that flow velocity at the level of the affected ear was significantly lower (both the diastolic and systolic components; P<0.05) in comparison with the other ear. The treatment favored an improvement in systolic (P<0.05) and diastolic flow velocity (P<0.05) in the two treatment groups A+B. The increase in flow velocity was very limited and not significant in controls.

CONCLUSION:

These results suggest that in selected patients with tinnitus and altered perfusion, Pycnogenol is effective in a short period of time in relieving tinnitus symptoms by improving cochlear blood flow. The effect is more pronounced with higher Pycnogenol dosage. More studies should be planned to better evaluate the pathology and potential applications of Pycnogenol in a larger number of patients who are currently without a real therapeutic solution.