The following article gives us yet another reason to eat our vegetables.
Cruciferous vegetables, tomato sauce, and legumes have been associated with reduced risk of incident advanced prostate cancer. In vitro and animal studies suggest these foods may inhibit progression of prostate cancer, but there are limited data in men. Therefore, we prospectively examined whether intake of total vegetables, and specifically cruciferous vegetables, tomato sauce, and legumes, after diagnosis reduce risk of prostate cancer progression among 1,560 men diagnosed with non-metastatic prostate cancer and participating in the Cancer of the Prostate Strategic Urologic Research Endeavor, a United States prostate cancer registry. As a secondary analysis, we also examined other vegetable sub-groups, total fruit, and sub-groups of fruits. The participants were diagnosed primarily at community-based clinics and followed from 2004-2009. We assessed vegetable and fruit intake via a semi-quantitative food frequency questionnaire, and ascertained prostate cancer outcomes via urologist report and medical records. We observed 134 events of progression (53 biochemical recurrences, 71 secondary treatments likely due to recurrence, six bone metastases, four prostate cancer deaths) during 3,171 person-yrs. Men in the fourth quartile of post-diagnostic cruciferous vegetable intake had a statistically significant 59% decreased risk of prostate cancer progression compared to men in the lowest quartile (hazard ratio (HR): 0.41; 95% confidence interval (CI): 0.22, 0.76; p-trend: 0.003). No other vegetable or fruit group was statistically significantly associated with risk of prostate cancer progression. In conclusion, cruciferous vegetable intake after diagnosis may reduce risk of prostate cancer progression.

The following article states clearly the importance of making sure medications are taken with safety in mind.
Nurses have read the statistics on the numbers of prescription medications seniors take each day and the pitfalls and diverse problems that occur as a result. Various scenarios contribute to this problem: multiple healthcare providers prescribe medications; the use of over-the-counter products and herbs or alcohol cause medication interactions; and patients increase, decrease, skip, or repeat doses. When medications are not taken correctly, an increase in the number of physician or emergency department visits and hospitalizations results. Patients who come to a rehabilitation unit after joint replacement or hip-pinning surgery, stroke, or for treatment of other conditions may be prescribed medications that differ from the drugs they were taking at home. These patients and their families need to learn how to safely take their new medications. This presentation describes how five nurses developed a medication safety program consisting of four segments: Making Your Medication List; Talking to Your Healthcare Team About Your Medications; Safely Storing, Taking, and Destroying Your Medications; and Knowing the Difference Between Allergies, Side Effects, and Interactions. This article also describes the development of the script and PowerPoint program, lessons learned from the first presentation, and implications for rehabilitation nurses. The information presented in this series can help patients and families take charge of their medications. The team of community educators who wrote this article encourages the integration of this program into readers' local patient communities because standards of care and resources vary in the communities that nurses serve.
When a study illustrates all healing aspects of an herb and calls it a "cure-all", I feel it is worth a read.  Western herbalists have known the worth of Gotu Kola, Centella asiatica.  At the end of the abstract, I have attached a link to the complete study.
Abstract
In recent times, focus on plant research has increased all over the world. Centella asiatica is an important medicinal herb that is widely used in the orient and is becoming popular in the West. Triterpenoid, saponins, the primary constituents of Centellaasiatica are manly believed to be responsible for its wide therapeutic actions. Apart from wound healing, the herb is recommended for the treatment of various skin conditions such as leprosy, lupus, varicose ulcers, eczema, psoriasis, diarrhoea, fever, amenorrhea, diseases of the female genitourinary tract and also for relieving anxiety and improving cognition. The present review attempts to provide comprehensive information on pharmacology, mechanisms of action, various preclinical and clinical studies, safety precautions and current research prospects of the herb. At the same time, studies to evaluate the likelihood of interactions with drugs and herbs on simultaneous use, which is imperative for optimal and safe utilization of the herb, are discussed.

Indian J Pharm Sci. 2010 Sep;72(5):546-56.

http://www.ncbi.nlm.nih.gov/pmc/articles/PMC3116297/?tool=pubmed
There are many herbal alternatives to DEET.  This study shows how catnip, Napeta cataria, can be a beneficial ingredient to your natural insect repellent.
Abstract

The repellent activity of the essential oilof the catmint plant, Nepetacataria (Lamiaceae), and the main iridoid compounds (4aS,7S,7aR) and (4aS,7S,7aS)-nepetalactone, was assessed against (i) major Afro-tropical pathogen vector mosquitoes, i.e. the malaria mosquito, Anopheles gambiae s.s. and the Southern house mosquito, Culex quinquefasciatus, using a World Health Organisation (WHO)-approved topical application bioassay (ii) the brown ear tick, Rhipicephalus appendiculatus, using a climbing repellency assay, and (iii) the red poultry mite, Dermanyssus gallinae, using field trapping experiments. Gas chromatography (GC) and coupled GC-mass spectrometry (GC-MS) analysis of two N. cataria chemotypes (A and B) used in the repellency assays showed that (4aS,7S,7aR) and (4aS,7S,7aS)-nepetalactone were present in different proportions, with one of the oils (from chemotype A) being dominated by the (4aS,7S,7aR) isomer (91.95% by GC), and the other oil(from chemotype B) containing the two (4aS,7S,7aR) and (4aS,7S,7aS) isomers in 16.98% and 69.83% (by GC), respectively. The sesquiterpene hydrocarbon (E)-(1R,9S)-caryophyllene was identified as the only other major component in the oils (8.05% and 13.19% by GC, respectively). Using the topical application bioassay, the oils showed high repellent activity (chemotype A RD(50)=0.081 mg cm(-2) and chemotype B RD(50)=0.091 mg cm(-2)) for An. gambiae comparable with the synthetic repellent DEET (RD(50)=0.12 mg cm(-2)), whilst for Cx. quinquefasciatus, lower repellent activity was recorded (chemotype A RD(50)=0.34 mg cm(-2) and chemotype B RD(50)=0.074 mg cm(-2)). Further repellency testing against An. gambiae using the purified (4aS,7S,7aR) and (4aS,7S,7aS)-nepetalactone isomers revealed overall lower repellent activity, compared to the chemotype A and B oils. Testing of binary mixtures of the (4aS,7S,7aR) and (4aS,7S,7aS) isomers across a range of ratios, but all at the same overall dose (0.1 mg), revealed not only a synergistic effect between the two, but also a surprising ratio-dependent effect, with lower activity for the pure isomers and equivalent or near-equivalent mixtures, but higher activity for non-equivalent ratios. Furthermore, a binary mixture of (4aS,7S,7aR) and (4aS,7S,7aS) isomers, in a ratio equivalent to that found in chemotype B oil, was less repellent than the oilitself, when tested at two doses equivalent to 0.1 and 0.01 mg chemotype B oil. The three-component blend including (E)-(1R,9S)-caryophyllene at the level found in chemotype B oilhad the same activity as chemotype B oil. In a tick climbing repellency assay using R. appendiculatus, the oils showed high repellent activity comparable with data for other repellent essential oils (chemotype A RD(50)=0.005 mg and chemotype B RD(50)=0.0012 mg). In field trapping assays with D. gallinae, addition of the chemotype A and B oils, and a combination of the two, to traps pre-conditioned with D. gallinae, all resulted in a significant reduction of D. gallinae trap capture. In summary, these data suggest that although the nepetalactone isomers have the potential to be used in human and livestock protection against major pathogen vectors, intact, i.e. unfractionated, Nepetaspp. oils offer potentially greater protection, due to the presence of both nepetalactone isomers and other components such as (E)-(1R,9S)-caryophyllene.

Phytochemistry. 2011 Jan;72(1):109-14. Epub 2010 Nov 4.
The following information gives us a clear understanding of the relationship of melatonin and oxidative stress.
Oxidative stress has been proven to be related to the onset of a large number of health disorders. This chemical stress is triggered by an excess of free radicals, which are generated in cells because of a wide variety of exogenous and endogenous processes. Therefore, finding strategies for efficiently detoxifying free radicals has become a subject of a great interest, from both an academic and practical points of view. Melatonin is a ubiquitous and versatile molecule that exhibits most of the desirable characteristics of a good antioxidant. The amount of data gathered so far regarding the protective action of melatonin against oxidative stress is overwhelming. However, rather little is known concerning the chemical mechanisms involved in this activity. This review summarizes the current progress in understanding the physicochemical insights related to the free radical-scavenging activity of melatonin. Thus far, there is a general agreement that electron transfer and hydrogen transfer are the main mechanisms involved in the reactions of melatonin with free radicals. However, the relative importance of other mechanisms is also analyzed. The chemical nature of the reacting free radical also has an influence on the relative importance of the different mechanisms of these reactions. Therefore, this point has also been discussed in detail in the current review. Based on the available data, it is concluded that melatonin efficiently protects against oxidative stress by a variety of mechanisms. Moreover, it is proposed that even though it has been referred to as the chemical expression of darkness, perhaps it could also be referred to as the chemical light of health.
The following information clearly shows the benefits of taking krill oil for those with inflammatory conditions.
Abstract

OBJECTIVES:

a) To evaluate the effect of Neptune Krill Oil (NKO) on C-reactive protein (CRP) on patients with chronic inflammation and b) to evaluate the effectiveness of NKO on arthritic symptoms.

METHODS:

Randomized, double blind, placebo controlled study. Ninety patients were recruited with confirmed diagnosis of cardiovascular disease and/or rheumatoid arthritis and/or osteoarthritis and with increased levels of CRP (>1.0 mg/dl) upon three consecutive weekly blood analysis. Group A received NKO (300 mg daily) and Group B received a placebo. CRP and Western Ontario and McMaster Universities (WOMAC) osteoarthritis score were measured at baseline and days 7, 14 and 30.

RESULTS:

After 7 days of treatment NKO reduced CRP by 19.3% compared to an increase by 15.7% observed in the placebo group (p = 0.049). After 14 and 30 days of treatment NKO further decreased CRP by 29.7% and 30.9% respectively (p < 0.001). The CRP levels of the placebo group increased to 32.1% after 14 days and then decreased to 25.1% at day 30. The between group difference was statistically significant; p = 0.004 at day 14 and p = 0.008 at day 30. NKO showed a significant reduction in all three WOMAC scores. After 7 days of treatment, NKO reduced pain scores by 28.9% (p = 0.050), reduced stiffness by 20.3% (p = 0.001) and reduced functional impairment by 22.8% (p = 0.008).

CONCLUSION:

The results of the present study clearly indicate that NKO at a daily dose of 300 mg significantly inhibits inflammation and reduces arthritic symptoms within a short treatment period of 7 and 14 days.

The following information offers clear evidence that herbs and vitamins should be considered in the prevention as well as treatment of prostate cancer.
Since the use of dietary supplements as alternative treatments or adjuvant therapies in cancer treatment is growing, a scientific verification of their biological activity and the detailed mechanisms of their action are necessary for the acceptance of dietary supplements in conventional cancer treatments. In the present study we have evaluated the anti-cancer effects of dietary supplement ProstaCaid™ (PC) which contains mycelium from medicinal mushrooms (Ganoderma lucidum, Coriolus versicolor, Phellinus linteus), saw palmetto berry, pomegranate, pumpkin seed, green tea [40% epigallocatechin-3-gallate (EGCG)], Japanese knotweed (50% resveratrol), extracts of turmeric root (BCM-95®), grape skin, pygeum bark, sarsaparilla root, Scutellaria barbata, eleuthero root, Job's tears, astragalus root, skullcap, dandelion, coptis root, broccoli, and stinging nettle, with purified vitamin C, vitamin D3, selenium, quercetin, citrus bioflavonoid complex, β sitosterolzinc, lycopene, α lipoic acid, boron, berberine and 3.3′-diinodolymethane (DIM). We show that PC treatment resulted in the inhibition of cell proliferation of the highly invasive human hormone refractory (independent) PC-3 prostate cancer cells in a dose- and time-dependent manner with IC50 56.0, 45.6 and 39.0 µg/ml for 24, 48 and 72 h, respectively. DNA-microarray analysis demonstrated that PC inhibits proliferation through the modulation of expression of CCND1, CDK4, CDKN1A, E2F1, MAPK6 and PCNA genes. In addition, PC also suppresses metastatic behavior of PC-3 by the inhibition of cell adhesion, cell migration and cell invasion, which was associated with the down-regulation of expression of CAV1, IGF2, NR2F1, and PLAU genes and suppressed secretion of the urokinase plasminogen activator (uPA) from PC-3 cells. In conclusion, the dietary supplement PC is a promising natural complex with the potency to inhibit invasive human prostate cancer.
We would like to believe that our alternative natural health care media would give us the facts that the mainstream media doesn't. But do they? Or are we being fed more scare tactics than serious, objective, investigative journalism? And couldn't we please have news that steers clear of partisan attacks and punditry?
Perfect example: "Natural News." I'm sick of their fear mongering, ideological BS and hyperbole. Why does a supposedly health-focused publication run "stories" like this: "Democrats want to spend us into oblivion" and "Destroying America's economy one tax at a time." And who the hell needs yet another "news source" to "inform" us about Anthony Weiner's wiener? Ugh.
But apart from obvious right wing attack politics, many of the stories are fringe conspiracy nuttery. For example, we're supposed to take seriously their conspiracy theory that the US Army and Navy caused the earthquake and tsunami in Japan that led to the nuclear disaster still playing out there? Oh, please! The super secret HAARP transmitter, they say, is the means by which the evil empire can summon up earthquakes and tsunamis.
"Numerous credible reports and scientific observations reveal that HAARP technology is fully capable of being used as a scalar weapon, meaning it can emit strong electromagnetic pulse bombs that can alter weather or trigger seismic fault lines."
Well, how original! Hugo Chavez blamed the Haiti quake on the HAARP project, Jesse Ventura has a YouTube video on it ("a real-life doomsday machine.. that can destroy the world"), and conspiracy theorists have been blaming it for everything from cold winters in Europe to multiple earthquakes and eruptions all over the world.
Frankly, it's embarrassing for anyone who cites any article from Natural News because they regularly veer into this kind of absurd conspiracy talk.
Is Natural News just gullible? Or intentionally misleading? I think it's the latter. Check out this "quote mining" from the HAARP article. Quote mining is a well known trick to support one's point through, well, lying.
According to Natural News, former Secretary of Defense William Cohen admitted this HAARP technology exists and can control climate, volcanoes and earthquakes. Here's how Natural News quotes Cohen:
Cohen had this to say as part of his response about the type of technology that existed, even back then: "'Others are engaging even in an eco-type terrorism whereby they can alter the climate, set off earthquakes, volcanoes remotely through the use of electromagnetic waves."
Wow. Cohen admits that? FALSE! Let's look at the original quote. Cohen is talking about how "false threats" can waste time and "paralyze the agency for weeks and months and years even."
"The same thing is true about just the false scare of a threat… There are some  reports, for example, that some countries have been trying to construct something like an Ebola Virus, and that would be a very dangerous phenomenon, to say the least. Alvin Toeffler [Future Shock] has written about this in terms of some scientists in their laboratories trying to devise certain types of pathogens that would be ethnic specific so that they could just eliminate certain ethnic groups and races; and others are designing some sort of engineering, some sort of insects that can destroy specific crops. Others are engaging even in an eco- type of terrorism whereby they can alter the climate, set off earthquakes, volcanoes remotely through the use of electromagnetic waves. "
Know what? That's flat out dishonest to take a quote out of context intentionally in order to reverse its meaning. And I don't care to be terrorized by intentional distortions, by the "Health Ranger" or anyone else.
For those who don't know about HAARP (link to HAARP website at U of Alaska), it's a high altitude research project. It's not top secret: it's not classified at all. You can tour the facility in Alaska any time. The total budget is $250 million, yet we're supposed to believe they have created a Sci-Fi worthy Death Star?? For the record, the transmitter only works directly over the station in Alaska. The signal it is capable of generating is "more than 11 million times weaker (smaller) than the Earth's background field."
This is an epic fail for Natural News, but if you think it's an anomaly, take a look at the other stories on the site. What do YOU think? Truth or spin?
There are plenty of real issues to be concerned about. Do you really want your emotions jerked around by junk journalism?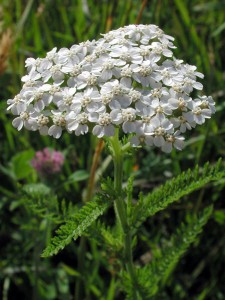 The study below supports the use of yarrow in asthma and hypertension.
Achillea millefolium Linn. (Asteraceae) is used in folk medicine for the treatment of overactive cardiovascular and respiratory ailments. This study describes its hypotensive, cardio-depressant, vasodilatory and bronchodilatory activities. The crude extract of Achillea millefolium (Am.Cr) caused a dose-dependent (1-100 mg/kg) fall in arterial blood pressure of rats under anaesthesia. In spontaneously beating guinea-pig atrial tissues, Am.Cr exhibited negative inotropic and chronotropic effects. In isolated rabbit aortic rings, Am.Cr at 0.3-10 mg/mL relaxed phenylephrine (PE, 1 µm) and high K(+) (80 mm)-induced contractions, as well as suppressed the PE (1 µm) control peaks obtained in Ca(++) -free medium, like that caused by verapamil. The vasodilator effect of Am.Cr was partially blocked by N(ω) -nitro-l-arginine methyl ester in endothelium intact preparations. In guinea-pig tracheal strips, Am.Cr inhibited carbachol (CCh, 1 µm) and K(+) -induced contractions. These results indicate that Achillea millefolium exhibits hypotensive, cardiovascular inhibitory and bronchodilatory effects, thus explaining its medicinal use in hyperactive cardiovascular and airway disorders, such as hypertension and asthma.

Phytother Res. 2011 Apr;25(4):577-83. doi: 10.1002/ptr.3303. Epub 2010 Sep 20.
Brand new meta-analysis of tea researched for lowering prostate cancer risk. The authors looked at 13 studies and found green tea significantly reduced risk. The results aren't stellar, but promising. Here's the abstract:
Observational studies on tea consumption and prostate cancer (PCa) risk
are still inconsistent. The authors conducted a meta-analysis to
investigate the association between green tea and black tea consumption
with PCa risk. Thirteen studies providing data on green tea or black tea
consumption were identified by searching PubMed and ISI Web of Science
databases and secondary referencing qualified for inclusion. A
random-effects model was used to calculate the summary odds ratios (OR)
and their corresponding 95% confidence intervals (CIs). For green tea,
the summary OR of PCa indicated a borderline significant association in
Asian populations for highest green tea consumption vs. non/lowest (OR =
0.62; 95% CI: 0.38-1.01); and the pooled estimate reached statistically
significant level for case-control studies (OR = 0.43; 95% CI:
0.25-0.73), but not for prospective cohort studies (OR = 1.00; 95% CI:
0.66-1.53). For black tea, no statistically significant association was
observed for the highest vs. non/lowest black tea consumption (OR =
0.99; 95% CI: 0.82-1.20). In conclusion, this meta-analysis supported
that green tea but not black tea may have a protective effect on PCa,
especially in Asian populations. Further research regarding green tea
consumption across different regions apart from Asia is needed.
http://www.ncbi.nlm.nih.gov/pubmed/21667398