This study demonstrates why parents should speak with their pediatricians for alternative options to antibiotics.
BACKGROUND. Antibiotic exposure in early childhood is a possible contributor to the increasing asthma prevalence in industrialized countries. Although a number of published studies have tested this hypothesis, the results have been conflicting.

 OBJECTIVE. To explore the association between antibiotic exposure before 1 year of age and development of childhood asthma.

 METHODS. Using administrative data, birth cohorts from 1997 to 2003 were evaluated (N = 251817). Antibiotic exposure was determined for the first year of life. After the first 24 months of life, the incidence of asthma was determined in both those exposed and not exposed to antibiotics in the first 12 months of life. Cox proportional hazards models were used to adjust for potential confounders and determine the hazard ratios associated with antibiotic exposure for the development of asthma.

 RESULTS. Antibiotic exposure in the first year of life was associated with a small risk of developing asthma in early childhood after adjusting for gender, socioeconomic status at birth, urban or rural address at birth, birth weight, gestational age, delivery method, frequency of physician visits, hospital visit involving surgery, visits to an allergist, respirologist, or immunologist, congenital anomalies, and presence of otitis media, acute, or chronic bronchitis, and upper and lower respiratory tract infections during the first year of life. As the number of courses of antibiotics increased, this was associated with increased asthma risk, with the highest risk being in children who received >4 courses. All antibiotics were associated with an increased risk of developing asthma, with the exception of sulfonamides.

 CONCLUSIONS. This study provides evidence that the use of antibiotics in the first year of life is associated with a small risk of developing asthma, and this risk increases with the number of courses of antibiotics prescribed.

Pediatrics Vol. 123 No. 3 March 1, 2009.
pp. 1003 -1010


The following study shows the effectiveness of Pycnogenol in the treatment of tinnitus.
The aim of this preliminary evaluation was to study the efficacy of Pycnogenol in improving cochlear flow in patients with mild-to-moderate tinnitus present for at least two weeks (without vertigo or important hearing loss), possibly associated with cochlear hypo-perfusion.

METHODS:

Patients with mild-to-moderate, idiopatic, monolateral tinnitus present for at least 2 weeks were included; no vertigo or important hearing loss had been found in a specific examination. The origin of tinnitus had been sudden (hours or days). Fifty-eight patients used Pycnogenol: 24 used 150 mg/day (group A; mean age 43.2+/-4.3) and 34 patients 100 mg/day (group B: mean age 42.4+/-3.8). Controls included 24 patients (mean age 42.3+/-4.5). The groups were comparable for their clinical problem and age and sex. The average duration of treatment was 34.3+/-3.1 days. No side effects were observed and no drop-outs occurred.

RESULTS:

The variations in cochlear flow velocity (in cm/s at the cochlear artery), at inclusion and after four weeks of treatment indicated that flow velocity at the level of the affected ear was significantly lower (both the diastolic and systolic components; P<0.05) in comparison with the other ear. The treatment favored an improvement in systolic (P<0.05) and diastolic flow velocity (P<0.05) in the two treatment groups A+B. The increase in flow velocity was very limited and not significant in controls.

CONCLUSION:

These results suggest that in selected patients with tinnitus and altered perfusion, Pycnogenol is effective in a short period of time in relieving tinnitus symptoms by improving cochlear blood flow. The effect is more pronounced with higher Pycnogenol dosage. More studies should be planned to better evaluate the pathology and potential applications of Pycnogenol in a larger number of patients who are currently without a real therapeutic solution.
Mushrooms
 have long been recognized for their use in immune support.  This study shows another wonderful benefit to oyster mushrooms.
ABSTRACT:

BACKGROUND:

Mushrooms are well recognized for their culinary properties as well as for their potency to enhance immune response. In the present study, we evaluated anti-inflammatory properties of an edible oyster mushroom (Pleurotus ostreatus) in vitro and in vivo.

METHODS:

RAW264.7 murine macrophage cell line and murine splenocytes were incubated with the oyster mushroom concentrate (OMC, 0-100 ug/ml) in the absence or presence of lipopolysacharide (LPS) or concanavalin A (ConA), respectively. Cell proliferation was determined by MTT assay. Expression of cytokines and proteins was measured by ELISA assay and Western blot analysis, respectively. DNA-binding activity was assayed by the gel-shift analysis. Inflammation in mice was induced by intraperitoneal injection of LPS.

RESULTS:

OMC suppressed LPS-induced secretion of tumor necrosis factor-alpha (TNF-a), interleukin-6 (IL-6), and IL-12p40 from RAW264.7 macrophages. OMC inhibited LPS-induced production of prostaglandin E2 (PGE2) and nitric oxide (NO) through the down-regulation of expression of COX-2 and iNOS, respectively. OMC also inhibited LPS-dependent DNA-binding activity of AP-1 and NF-kB in RAW264.7 cells. Oral administration of OMC markedly suppressed secretion of TNF-a and IL-6 in mice challenged with LPS in vivo. Anti-inflammatory activity of OMC was confirmed by the inhibition of proliferation and secretion of interferon-gamma (IFN-g), IL-2, and IL-6 from concanavalin A (ConA)-stimulated mouse splenocytes.

CONCLUSIONS:

Our study suggests that oyster mushroom possesses anti-inflammatory activities and could be considered a dietary agent against inflammation. The health benefits of the oyster mushroom warrant further clinical studies.

Nutr J. 2011 May 16;10(1):52.

The following information gives us a clear description of the differences between healthy and non healthy fats in our diets.  Coconut oil is an excellent example of a quality and healthy fat that should be considered for our diets.
Fat is generally a highly valued element of the diet to provide energy, palatability to dry foods or to serve as a cooking medium. However, some foods rich in fat have a low fat quality with respect to nutrition, i.e., a relative high content of saturated (SFA) as compared to unsaturated fatty acids, whereas others have a more desirable fat quality, i.e., a relative high content of unsaturated fatty acids as compared to SFA. High-fat dairy products and fatty meats are examples of foods with low fat quality, whereas vegetable oils (tropical oils such as palm and coconut oil excluded) are products with a generally high fat quality. The aim of this paper is to explore the nutritional impact of products made of vegetable oils, e.g. margarines and dressings, and how they can be designed to contribute to good health. Since their first industrial production, the food industry has endeavored to improve products like margarines, including their nutritional characteristics. With evolving nutrition science, margarines and cooking products, and to a lesser extent dressings, have been adapted to contain less trans fatty acids (TFA), less SFA and more essential (polyunsaturated, PUFA) fatty acids. This has been possible by using careful fat and oil selection and modification processes. By blending vegetable oils rich in the essential PUFAs alpha-linolenic acid (vegetable omega-3) or linoleic acid (omega-6), margarines and dressings with both essential fatty acids present in significant quantities can be realized. In addition, full hydrogenation and fat rearrangement have enabled the production of cost-effective margarines virtually devoid of TFA and low in SFA. Dietary surveys indicate that vegetable oils, soft margarines and dressings are indeed often important sources of essential fatty acids in people's diets, whilst providing negligible amounts of TFA and contributing modestly to SFA intakes. Based on empirical and epidemiological data, the public health benefit of switching from products with a low fat quality to products with a high fat quality can be predicted. For example, switching from butter or palm oil to a soft margarine shows a substantial improvement in the nutritional quality of the diet. These simple, practical dietary adaptations can be expected to contribute to the healthy growth and development of children and to reduce the burden of cardiovascular disease.
Probiotics are of great value to our overall health as outlined in the following study.
There are a variety of conditions in which the use of pro-biotics has proven effective:diarrhoea with its various causes, inflammatory bowel diseases, irritable bowel disease, colon cancer chemoprevention and hepato-portal encefalopathy. The pro-biotics have shown to be a promising therapeutical alternative for the future due to their lack of side effects and convenient mode of administration. Further, the potential of other pro-biotics is awaiting validation by clinical trials.

Head and body lice are not the most pleasant of topics but we see in this article the effectiveness of Neem in getting rid of these unsavory bugs.
The eggs (nits) of head and body lice (Pediculus humanus capitis, Pediculus humanus corporis) were incubated for 5, 10, 15, 20, 30 or 45 min into a neem seed extract contained in a fine shampoo formulation (e.g. Wash Away® Louse), which is known for its significant killing effects of larvae and adults of head lice. The aim of the study was to test whether the developmental stages inside the eggs are also killed after the incubation into the shampoo. It was found that an incubation time of only 5 min was sufficient to prohibit any hatching of larvae, whilst 93 ± 4% of the larvae in the untreated controls of body lice hatched respectively about 76% of the controls in the case of head lice. Apparently, the neem-based shampoo blocked the aeropyles of the eggs, thus preventing the embryos of both races of lice from accessing oxygen and from releasing carbon dioxide. Thus, this product offers a complete cure from head lice upon a single treatment, if the lice (motile stages, eggs) are fully covered for about 10 min.

Ashwagandha is a very useful herb.  The following information shows its possible use for improved physical endurance and to help with strength.
Several medicinal plants have been described to be beneficial for cardiac ailments in Ayurveda like Ashwagandha and Arjuna. Ashwagandha-categorised as Rasayanas, and described to promote health and longevity and Arjuna primarily for heart ailments. coronary artery disease, heart failure, hypercholesterolemia, anginal pain and can be considered as a useful drug for coronary artery disease, hypertension and ischemic cardiomyopathy.

OBJECTIVE:

There are no scientific clinical studies showing effect of both these drugs on exercise performance after regular administration when given as supplements The present study was therefore designed and performed to assess the effects of Withania somnifera (Ashwagandha) and Terminalia arjuna (Arjuna) individually and as a combination on maximum velocity, average absolute and relative Power, balance, maximum oxygen consumption (VO2 max) and blood pressure in humans.

MATERIALS AND METHODS:

Forty normal healthy. Subjects (either sex, mean age 20.6 ± 2.5yrs and mean Body Mass Index 21.9 ± 2.2) were recruited after written informed consent was obtained. Institutional Ethics Committee permission was also obtained. Thirty participants were assigned to experimental group of which 10 received standardized root extracts of Withania somnifera, 10 received standardized bark extract of Terminalia arjuna and the rest of the 10 received standardized root extract of Withania somnifera in addition to bark extract of Terminalia arjuna both. Both the drugs were given in the form of capsules (dosage 500mg/day for both the drugs). Ten participants received placebo (capsules filled with flour). All the subjects continued the regimen for 8 weeks. All variables were assessed before and after the course of drug administration

OBSERVATIONS:

Our study showed that Withania somnifera increased velocity, power and VO2 max whereas Terminalia arjuna increased VO2 max and lowered resting systolic blood pressure. When given in combination, the improvement was seen in all parameters except balance and diastolic blood pressure.

CONCLUSION:

Withania somnifera may therefore be useful for generalized weakness and to improve speed and lower limb muscular strength and neuro-muscular co-ordination. Terminalia arjuna may prove useful to improve cardio-vascular endurance and lowering systolic blood pressure. Both drugs appear to be safe for young adults when given for mentioned dosage and duration.

Pulsatilla is a beautiful flower with powerful medicine.  The following shows its antimicrobial uses in the treatment of acne.
Quinone type compound, pulsaquinone 1, isolated from the aqueous ethanol extract of the roots of Pulsatilla koreana exhibited antimicrobial activities against an anaerobic non-spore-forming gram-positive bacillus, Propionibacterium acnes, which is related with the pathogenesis of the inflamed lesions in a common skin disease, acne vulgaris. Compound 1 was unstable on standing and thus converted to more stable compound 2, namely hydropulsaquinone by hydrogenation, whose activity was comparable to mother compound 1 (MIC for 1 and 2 against P. acnes: 2.0 and 4.0 microg/mL, respectively). Other structurally-related quinone derivatives (3-13) were also tested for structure-activity relationship against anaerobic and aerobic bacteria, and fungi. The antimicrobial activity was fairly good when the quinone moiety was fused with a nonpolar 6- or 7-membered ring on the right side whether or not conjugated (1,4-naphtoquinone derivatives 3-5), while simple quinone compounds 6-9 showed poor activity. It seems that the methoxy groups at the left side of the quinone function deliver no considerable antimicrobial effect.
Lemon Verbena is not only an herb with a delecious flavor but as the article below states, it is used for its antioxidant consitutents.
Abstract Because of its good sensorial attributes, lemon verbena is used as a primary ingredient in infusions and nonalcoholic drinks. The present study was designed to assess the antioxidant activity (AA) of lemon verbena infusion (LVI) as well as the thermal stability of its AA and the content of polyphenolic compounds. The values reflecting the AA of LVI, including AA index, fast scavenging rate against 2,2-diphenyl-1-picrylhydrazyl, Trolox equivalent antioxidant capacity, and hydroxyl radical scavenging, are higher than those of many herbal infusions and antioxidant drinks estimated from reported data. In addition, the slope lag time and specific oxyradical antioxidant capacity values of LVI are comparable to those of a commercial antioxidant drink based on green tea. Hence, LVI is a source of bifunctional antioxidants, and thus in vivo studies of the antioxidant capacity of LVI would be useful to evaluate its potential as an ingredient in antioxidant drinks.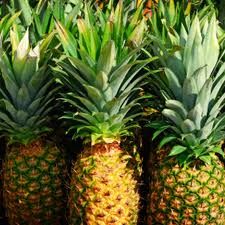 Bromelain has many wonderful uses.  The following information shows its usefulness as a safe and effective digestive aide.
This article reviews various forms of enzyme supplementation used clinically in digestive and absorption disorders. Enzyme supplementation plays an integral role in the management of various digestive disorders, particularly with regard to exocrine pancreatic insufficiency. However, application of enzymes may also be beneficial for other conditions associated with poor digestion including lactose intolerance. Historically, porcine and bovine pancreatic enzymes have been the preferred form of supplementation for exocrine pancreatic insufficiency. Use of microbe-derived lipase has shown promise with studies indicating benefit similar to pancreatic enzymes, but at a lower dosage concentration and with a broader pH range. Safety and efficacy of enzymes derived from microbial species in the treatment of conditions such as malabsorption and lactose intolerance is promising. Plant-based enzymes, such as bromelain from pineapple, serve as effective digestive aids in the breakdown of proteins. Synergistic effects have been observed using a combination of animal-based enzymes and microbe-derived enzymes or bromelain.