The following information offers clear evidence that herbs and vitamins should be considered in the prevention as well as treatment of prostate cancer.
Since the use of dietary supplements as alternative treatments or adjuvant therapies in cancer treatment is growing, a scientific verification of their biological activity and the detailed mechanisms of their action are necessary for the acceptance of dietary supplements in conventional cancer treatments. In the present study we have evaluated the anti-cancer effects of dietary supplement ProstaCaid™ (PC) which contains mycelium from medicinal mushrooms (Ganoderma lucidum, Coriolus versicolor, Phellinus linteus), saw palmetto berry, pomegranate, pumpkin seed, green tea [40% epigallocatechin-3-gallate (EGCG)], Japanese knotweed (50% resveratrol), extracts of turmeric root (BCM-95®), grape skin, pygeum bark, sarsaparilla root, Scutellaria barbata, eleuthero root, Job's tears, astragalus root, skullcap, dandelion, coptis root, broccoli, and stinging nettle, with purified vitamin C, vitamin D3, selenium, quercetin, citrus bioflavonoid complex, β sitosterolzinc, lycopene, α lipoic acid, boron, berberine and 3.3′-diinodolymethane (DIM). We show that PC treatment resulted in the inhibition of cell proliferation of the highly invasive human hormone refractory (independent) PC-3 prostate cancer cells in a dose- and time-dependent manner with IC50 56.0, 45.6 and 39.0 µg/ml for 24, 48 and 72 h, respectively. DNA-microarray analysis demonstrated that PC inhibits proliferation through the modulation of expression of CCND1, CDK4, CDKN1A, E2F1, MAPK6 and PCNA genes. In addition, PC also suppresses metastatic behavior of PC-3 by the inhibition of cell adhesion, cell migration and cell invasion, which was associated with the down-regulation of expression of CAV1, IGF2, NR2F1, and PLAU genes and suppressed secretion of the urokinase plasminogen activator (uPA) from PC-3 cells. In conclusion, the dietary supplement PC is a promising natural complex with the potency to inhibit invasive human prostate cancer.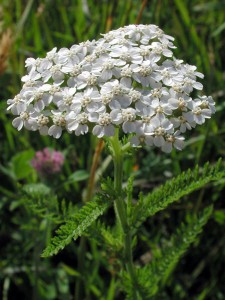 The study below supports the use of yarrow in asthma and hypertension.
Achillea millefolium Linn. (Asteraceae) is used in folk medicine for the treatment of overactive cardiovascular and respiratory ailments. This study describes its hypotensive, cardio-depressant, vasodilatory and bronchodilatory activities. The crude extract of Achillea millefolium (Am.Cr) caused a dose-dependent (1-100 mg/kg) fall in arterial blood pressure of rats under anaesthesia. In spontaneously beating guinea-pig atrial tissues, Am.Cr exhibited negative inotropic and chronotropic effects. In isolated rabbit aortic rings, Am.Cr at 0.3-10 mg/mL relaxed phenylephrine (PE, 1 µm) and high K(+) (80 mm)-induced contractions, as well as suppressed the PE (1 µm) control peaks obtained in Ca(++) -free medium, like that caused by verapamil. The vasodilator effect of Am.Cr was partially blocked by N(ω) -nitro-l-arginine methyl ester in endothelium intact preparations. In guinea-pig tracheal strips, Am.Cr inhibited carbachol (CCh, 1 µm) and K(+) -induced contractions. These results indicate that Achillea millefolium exhibits hypotensive, cardiovascular inhibitory and bronchodilatory effects, thus explaining its medicinal use in hyperactive cardiovascular and airway disorders, such as hypertension and asthma.

Phytother Res. 2011 Apr;25(4):577-83. doi: 10.1002/ptr.3303. Epub 2010 Sep 20.

Peppermint oil is a wonderful alternative option for those suffering from irritable bowel syndrome.
Numerous meta-analyses have recently assessed the overall clinical benefit of single therapy options and groups of therapies in the irritable bowel syndrome (IBS). By large, this should enable physicians to select from a number of therapy options available.

METHODS:

We entered dichotomous outcome data from 121 IBS trials published over the last 35 years with different groups and subgroups of drugs (antispasmodics, motility-affecting agents, antidepressants, peppermint oil), dietary interventions (bran, probiotics), and psychotherapy (cognitive behavioral, psychodynamic, hypnotherapy, relaxation techniques) into meta-analytic tools and estimate the overall efficacy (odds ratio, number needed to treat).

RESULTS:

Highest efficacy is currently found for peppermint oil, followed by psychotherapeutic and psychopharmacological interventions and probiotics. Traditional antispasmodic therapy has a moderate efficacy, whereas the list of (partially failed or cancelled) motility affecting drugs yielded weak clinical results, and therapies by bran and fibers are of no value in IBS.

CONCLUSION:

Evidence-based therapy in IBS provides a number of effective treatment options beyond the fact that many novel compounds under development have failed to reach the market. An algorithm for clinical therapy decision is proposed.
This study demonstrates why parents should speak with their pediatricians for alternative options to antibiotics.
BACKGROUND. Antibiotic exposure in early childhood is a possible contributor to the increasing asthma prevalence in industrialized countries. Although a number of published studies have tested this hypothesis, the results have been conflicting.

 OBJECTIVE. To explore the association between antibiotic exposure before 1 year of age and development of childhood asthma.

 METHODS. Using administrative data, birth cohorts from 1997 to 2003 were evaluated (N = 251817). Antibiotic exposure was determined for the first year of life. After the first 24 months of life, the incidence of asthma was determined in both those exposed and not exposed to antibiotics in the first 12 months of life. Cox proportional hazards models were used to adjust for potential confounders and determine the hazard ratios associated with antibiotic exposure for the development of asthma.

 RESULTS. Antibiotic exposure in the first year of life was associated with a small risk of developing asthma in early childhood after adjusting for gender, socioeconomic status at birth, urban or rural address at birth, birth weight, gestational age, delivery method, frequency of physician visits, hospital visit involving surgery, visits to an allergist, respirologist, or immunologist, congenital anomalies, and presence of otitis media, acute, or chronic bronchitis, and upper and lower respiratory tract infections during the first year of life. As the number of courses of antibiotics increased, this was associated with increased asthma risk, with the highest risk being in children who received >4 courses. All antibiotics were associated with an increased risk of developing asthma, with the exception of sulfonamides.

 CONCLUSIONS. This study provides evidence that the use of antibiotics in the first year of life is associated with a small risk of developing asthma, and this risk increases with the number of courses of antibiotics prescribed.

Pediatrics Vol. 123 No. 3 March 1, 2009.
pp. 1003 -1010


The following study shows the effectiveness of Pycnogenol in the treatment of tinnitus.
The aim of this preliminary evaluation was to study the efficacy of Pycnogenol in improving cochlear flow in patients with mild-to-moderate tinnitus present for at least two weeks (without vertigo or important hearing loss), possibly associated with cochlear hypo-perfusion.

METHODS:

Patients with mild-to-moderate, idiopatic, monolateral tinnitus present for at least 2 weeks were included; no vertigo or important hearing loss had been found in a specific examination. The origin of tinnitus had been sudden (hours or days). Fifty-eight patients used Pycnogenol: 24 used 150 mg/day (group A; mean age 43.2+/-4.3) and 34 patients 100 mg/day (group B: mean age 42.4+/-3.8). Controls included 24 patients (mean age 42.3+/-4.5). The groups were comparable for their clinical problem and age and sex. The average duration of treatment was 34.3+/-3.1 days. No side effects were observed and no drop-outs occurred.

RESULTS:

The variations in cochlear flow velocity (in cm/s at the cochlear artery), at inclusion and after four weeks of treatment indicated that flow velocity at the level of the affected ear was significantly lower (both the diastolic and systolic components; P<0.05) in comparison with the other ear. The treatment favored an improvement in systolic (P<0.05) and diastolic flow velocity (P<0.05) in the two treatment groups A+B. The increase in flow velocity was very limited and not significant in controls.

CONCLUSION:

These results suggest that in selected patients with tinnitus and altered perfusion, Pycnogenol is effective in a short period of time in relieving tinnitus symptoms by improving cochlear blood flow. The effect is more pronounced with higher Pycnogenol dosage. More studies should be planned to better evaluate the pathology and potential applications of Pycnogenol in a larger number of patients who are currently without a real therapeutic solution.
Mushrooms
 have long been recognized for their use in immune support.  This study shows another wonderful benefit to oyster mushrooms.
ABSTRACT:

BACKGROUND:

Mushrooms are well recognized for their culinary properties as well as for their potency to enhance immune response. In the present study, we evaluated anti-inflammatory properties of an edible oyster mushroom (Pleurotus ostreatus) in vitro and in vivo.

METHODS:

RAW264.7 murine macrophage cell line and murine splenocytes were incubated with the oyster mushroom concentrate (OMC, 0-100 ug/ml) in the absence or presence of lipopolysacharide (LPS) or concanavalin A (ConA), respectively. Cell proliferation was determined by MTT assay. Expression of cytokines and proteins was measured by ELISA assay and Western blot analysis, respectively. DNA-binding activity was assayed by the gel-shift analysis. Inflammation in mice was induced by intraperitoneal injection of LPS.

RESULTS:

OMC suppressed LPS-induced secretion of tumor necrosis factor-alpha (TNF-a), interleukin-6 (IL-6), and IL-12p40 from RAW264.7 macrophages. OMC inhibited LPS-induced production of prostaglandin E2 (PGE2) and nitric oxide (NO) through the down-regulation of expression of COX-2 and iNOS, respectively. OMC also inhibited LPS-dependent DNA-binding activity of AP-1 and NF-kB in RAW264.7 cells. Oral administration of OMC markedly suppressed secretion of TNF-a and IL-6 in mice challenged with LPS in vivo. Anti-inflammatory activity of OMC was confirmed by the inhibition of proliferation and secretion of interferon-gamma (IFN-g), IL-2, and IL-6 from concanavalin A (ConA)-stimulated mouse splenocytes.

CONCLUSIONS:

Our study suggests that oyster mushroom possesses anti-inflammatory activities and could be considered a dietary agent against inflammation. The health benefits of the oyster mushroom warrant further clinical studies.

Nutr J. 2011 May 16;10(1):52.

The following information gives us a clear description of the differences between healthy and non healthy fats in our diets.  Coconut oil is an excellent example of a quality and healthy fat that should be considered for our diets.
Fat is generally a highly valued element of the diet to provide energy, palatability to dry foods or to serve as a cooking medium. However, some foods rich in fat have a low fat quality with respect to nutrition, i.e., a relative high content of saturated (SFA) as compared to unsaturated fatty acids, whereas others have a more desirable fat quality, i.e., a relative high content of unsaturated fatty acids as compared to SFA. High-fat dairy products and fatty meats are examples of foods with low fat quality, whereas vegetable oils (tropical oils such as palm and coconut oil excluded) are products with a generally high fat quality. The aim of this paper is to explore the nutritional impact of products made of vegetable oils, e.g. margarines and dressings, and how they can be designed to contribute to good health. Since their first industrial production, the food industry has endeavored to improve products like margarines, including their nutritional characteristics. With evolving nutrition science, margarines and cooking products, and to a lesser extent dressings, have been adapted to contain less trans fatty acids (TFA), less SFA and more essential (polyunsaturated, PUFA) fatty acids. This has been possible by using careful fat and oil selection and modification processes. By blending vegetable oils rich in the essential PUFAs alpha-linolenic acid (vegetable omega-3) or linoleic acid (omega-6), margarines and dressings with both essential fatty acids present in significant quantities can be realized. In addition, full hydrogenation and fat rearrangement have enabled the production of cost-effective margarines virtually devoid of TFA and low in SFA. Dietary surveys indicate that vegetable oils, soft margarines and dressings are indeed often important sources of essential fatty acids in people's diets, whilst providing negligible amounts of TFA and contributing modestly to SFA intakes. Based on empirical and epidemiological data, the public health benefit of switching from products with a low fat quality to products with a high fat quality can be predicted. For example, switching from butter or palm oil to a soft margarine shows a substantial improvement in the nutritional quality of the diet. These simple, practical dietary adaptations can be expected to contribute to the healthy growth and development of children and to reduce the burden of cardiovascular disease.
Probiotics are of great value to our overall health as outlined in the following study.
There are a variety of conditions in which the use of pro-biotics has proven effective:diarrhoea with its various causes, inflammatory bowel diseases, irritable bowel disease, colon cancer chemoprevention and hepato-portal encefalopathy. The pro-biotics have shown to be a promising therapeutical alternative for the future due to their lack of side effects and convenient mode of administration. Further, the potential of other pro-biotics is awaiting validation by clinical trials.
Barberry (Berberis vulgaris)is an herb which is not often discussed.  Like goldenseal (Hydrastis canadensis) it also contains berberine which herbalists use for its antibacterial properities and to help support the immune system.  The study belows indicates barberry has antioxidant activity which suggest its use would be beneficial for the support of the immune system.
Antioxidant activities of the ethanolic extracts of roots, twigs and leaves of common barberry (Berberis vulgaris L.) and Croatian barberry (Berberis croatica Horvat) were studied. All the extracts were found to possess some radical-scavenging and antioxidant activities, as determined by scavenging effect on the DPPH free radical, reducing power and beta-carotene-linoleic acid model system. With the exception of the beta-carotene-linoleic acid test, antioxidant activity correlated well with the content of main plant antioxidants, phenols and flavonols, which suggests an important role of these compounds in overall antioxidant activity of investigated plant organs. The antioxidant activity varied mostly in relation to the organ, while no significant statistically differences were found between B. vulgaris and B. croatica.

Food Chem Toxicol. 2010 Aug-Sep;48(8-9):2176-80. Epub 2010 May 17.
It is that time of year when dandelions are popping up in lawns everywhere.  It has long been known by herbalist what to do with these plants.  The leaves are a rich source of vitamins, minerals and has diuretic, choleretic and anti-inflammatory actions.  The root has choleretic, cholagogue, tonic, anti-rheumatic, bitter and alterative actions. 
Below is a study supporting many of dandelion's wonderful actions.   
The genus Taraxacum is a member of the family Asteraceae, subfamily Cichorioideae, tribe Lactuceae and widely distributed in the warmer temperate zones of the Northern Hemisphere. The perennial weed has been known since ancient times for its curative properties and has been utilized for the treatment of various ailments such as dyspepsia, heartburn, spleen and liver complaints, hepatitis and anorexia. However, its use has mainly been based on empirical findings. This contribution provides a comprehensive review of the pharmacologically relevant compounds of Taraxacum characterized so far and of the studies supporting its use as a medicinal plant. Particular attention has been given to diuretic, choleretic, anti-inflammatory, anti-oxidative, anti-carcinogenic, analgesic, anti-hyperglycemic, anti-coagulatory and prebiotic effects. Finally, research needs such as quantification of individual Taraxacum constituents and assessment of their pharmacological activities in humans have briefly been outlined.

J Ethnopharmacol. 2006 Oct 11;107(3):313-23. Epub 2006 Jul 22.