Head and body lice are not the most pleasant of topics but we see in this article the effectiveness of Neem in getting rid of these unsavory bugs.
The eggs (nits) of head and body lice (Pediculus humanus capitis, Pediculus humanus corporis) were incubated for 5, 10, 15, 20, 30 or 45 min into a neem seed extract contained in a fine shampoo formulation (e.g. Wash Away® Louse), which is known for its significant killing effects of larvae and adults of head lice. The aim of the study was to test whether the developmental stages inside the eggs are also killed after the incubation into the shampoo. It was found that an incubation time of only 5 min was sufficient to prohibit any hatching of larvae, whilst 93 ± 4% of the larvae in the untreated controls of body lice hatched respectively about 76% of the controls in the case of head lice. Apparently, the neem-based shampoo blocked the aeropyles of the eggs, thus preventing the embryos of both races of lice from accessing oxygen and from releasing carbon dioxide. Thus, this product offers a complete cure from head lice upon a single treatment, if the lice (motile stages, eggs) are fully covered for about 10 min.
Lemon Verbena is not only an herb with a delecious flavor but as the article below states, it is used for its antioxidant consitutents.
Abstract Because of its good sensorial attributes, lemon verbena is used as a primary ingredient in infusions and nonalcoholic drinks. The present study was designed to assess the antioxidant activity (AA) of lemon verbena infusion (LVI) as well as the thermal stability of its AA and the content of polyphenolic compounds. The values reflecting the AA of LVI, including AA index, fast scavenging rate against 2,2-diphenyl-1-picrylhydrazyl, Trolox equivalent antioxidant capacity, and hydroxyl radical scavenging, are higher than those of many herbal infusions and antioxidant drinks estimated from reported data. In addition, the slope lag time and specific oxyradical antioxidant capacity values of LVI are comparable to those of a commercial antioxidant drink based on green tea. Hence, LVI is a source of bifunctional antioxidants, and thus in vivo studies of the antioxidant capacity of LVI would be useful to evaluate its potential as an ingredient in antioxidant drinks.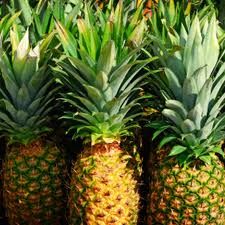 Bromelain has many wonderful uses.  The following information shows its usefulness as a safe and effective digestive aide.
This article reviews various forms of enzyme supplementation used clinically in digestive and absorption disorders. Enzyme supplementation plays an integral role in the management of various digestive disorders, particularly with regard to exocrine pancreatic insufficiency. However, application of enzymes may also be beneficial for other conditions associated with poor digestion including lactose intolerance. Historically, porcine and bovine pancreatic enzymes have been the preferred form of supplementation for exocrine pancreatic insufficiency. Use of microbe-derived lipase has shown promise with studies indicating benefit similar to pancreatic enzymes, but at a lower dosage concentration and with a broader pH range. Safety and efficacy of enzymes derived from microbial species in the treatment of conditions such as malabsorption and lactose intolerance is promising. Plant-based enzymes, such as bromelain from pineapple, serve as effective digestive aids in the breakdown of proteins. Synergistic effects have been observed using a combination of animal-based enzymes and microbe-derived enzymes or bromelain.

The following abstract gives clear information on the usefulness of St. John's Wort with mild to moderate depression.
This article aims to summarize the current state of knowledge on St. John's wort (Hypericum perforatum L.) which is one of the oldest and best investigated medicinal herbs. Dried alcoholic extracts are the most important preparations on the market although a variety of other preparations are available. Depressive disorders according to modern diagnostic standards are the best known and most widely investigated indication although the more traditional, broader indication of 'psycho-vegetative disorders, depressive disorders, anxiety and/or nervous agitation', including diagnoses such as somatoform disorders, might more adequately describe what Hypericum extracts are actually used for by many practitioners. The exact mechanisms of action are still unclear, but the available research clearly shows that various bioactive constituents contribute to the clinical effects reported, often in a synergistic manner. Hypericum extracts have consistently shown activity in pharmacological models related to antidepressant effects. Randomized clinical trials show that Hypericum extracts are more effective than placebo and similarly effective as standard antidepressants while having better tolerability in the acute treatment of major depressive episodes. The most important risk associated with Hypericum extracts are interactions with other drugs. Therefore, physicians need to be informed whether their patients take St. John's wort products. If the risk of interactions is adequately taken into account, high quality Hypericum extracts are an effective and safe tool in the hand of qualified health profession-als in primary care

If you are thinking of lowering your sugar intake you may want to consider using Stevia as a healthier alternative.
Studies revealed that Stevia has been used throughout the world since ancient times for various purposes; for example, as a sweetener and a medicine. We conducted a systematic literature review to summarize and quantify the past and current evidence for Stevia. We searched relevant papers up to 2007 in various databases. As we know that the leaves of Stevia plants have functional and sensory properties superior to those of many other high-potency sweeteners, Stevia is likely to become a major source of high-potency sweetener for the growing natural food market in the future. Although Stevia can be helpful to anyone, there are certain groups who are more likely to benefit from its remarkable sweetening potential. These include diabetic patients, those interested in decreasing caloric intake, and children. Stevia is a small perennial shrub that has been used for centuries as a bio-sweetener and for other medicinal uses such as to lower blood sugar. Its white crystalline compound (stevioside) is the natural herbal sweetener with no calories and is over 100-300 times sweeter than table sugar.

Eyebright Euphrasia, has long been used as an effective treatment of  conjunctivitis.  The following study shows how well the eye drops of this herb work for this condition.
INTRODUCTION: Eye drops made from Euphrasia rostkoviana Hayne have been used in anthroposophical medicine for more than 70 years for the structuring of the fluid organism in the eye, especially in inflammatory and catarrhal conjunctivitis. The aim of this prospective cohort trial was to describe the efficacy and tolerability of these eye drops in a community-based setting. To evaluate these questions, prospective cohort studies are the best method. This enables the investigator to attain real insights as to which treatment administered related to specific results in a specific group of patients.
DESIGN: Prospective, open label, one-armed, multicentered, multinational cohort trial.

SETTING: The trial was carried out in the clinics of 12 experienced anthroposophical general practitioners and ophthalmologists in Germany and Switzerland.

PATIENTS: Patients with inflammatory or catarrhal conjunctivitis, treated with Euphrasia single-dose eye drops were included in the trial.

INTERVENTION: One drop of Euphrasia single-dose eye drops 1-5 times a day was prescribed. The prescription was determined solely by medical therapeutic needs.

OUTCOME MEASURES: Efficacy variables were: redness, swelling, secretion, burning of the conjunctiva, and foreign body sensation. Tolerability variables were: conjunctival reddening, burning of the conjunctiva, foreign body sensation, and veiled vision. All symptoms were given for the right or left eye separately, with degree of severity in relation to baseline after approximately 7 days (+/-3 days; first follow-up examination) and after approximately 14 days (+/-3 days; second follow-up examination). If, after the first follow-up, all symptoms had disappeared, no second follow-up was done.

RESULTS: Sixty-five (65) patients fulfilled the inclusion criteria for the protocol evaluation. A complete recovery was seen in 53 patients (81.5%) and a clear improvement in 11 patients (17.0%). A slight worsening could only be determined in 1 patient in the second week of treatment (1.5%). No serious adverse events were observed during the entire trial. The efficacy and tolerability were evaluated by the patients and doctors as "good" to "very good" in more than 85%.

CONCLUSION: Euphrasia single-dose eye drops can effectively and safely be used for various conjunctival conditions by general practitioners and ophthalmologists. A dosage of one drop three times a day seems to be the general prescribed dosage.

Goldenseal and Astragalus are two very useful herbs for the immune system.  The following article show their effectiveness at the first sign of infection.
Goldenseal (Hydrastis canadenisis) is a native American medicinal plant used as an immune stimulant. Astragalus (Astragalus membranaceus) is a widely used herbal product in China, other Asian countries, and the United States as an immune stimulant to be taken on first clinical signs of infection. In this study, the innate effects of goldenseal and Astragalus on pro-inflammatory cytokines produced by cultured macrophages were examined using two different commercial preparations of goldenseal and Astragalus. Both goldenseal and Astragalus were found to exhibit little to no direct effect on stimulation of mouse macrophages (J774A.1 cells), with only Astragalus able to affect production of tumor necrosis factor (TNF)-alpha when used in high concentrations. However, both goldenseal and Astragalus were able to modify responses from lipopolysaccharide-stimulated macrophages, with identified immunomodulatory effects to reduce production of TNF-alpha, interleukin (IL)-6, IL-10, and IL-12 in a dose-dependent manner. The results obtained indicate that both goldenseal and Astragalus exhibit abilities to modulate macrophage responses during stimulation. Therefore, it is hypothesized that their historical use as therapeutic agents may be due to reduction in the pro-inflammatory response that indirectly leads to limiting of clinical symptoms during infection. Both products differ in their immune stimulatory patterns, offering insight into differential use and therapeutic potential of these products to regulate macrophage immune responses and activation events.

Uva Ursi is a wonderful herb to use as an alternative to problem causing antibiotics, for urinary tract infections.
Infections of the lower urinary tract are common occurrences in young women, during pregnancy, and in peri- and postmenopausal women. Because of the chronic nature of urinary tract infections (UTIs) and the potential for antibiotic resistance, a natural approach to prevention and treatment is desirable. Clinical research suggests the best natural options for long-term prevention include cranberry, mannose, and probiotics. Botanicals that can be effective at the first sign of an infection and for short-term prophylaxis include berberine and uva ursi. Estriol cream and vitamins A and C have also been shown to prevent UTIs, while potassium salts can alkalinize the urine and reduce dysuria.

Garlic has many wonderful properties to help maintain our health.  The following article shows yet another possible health benefit of this useful herb.
Allicin is an active compound derived from garlic that has been shown to have antitumor properties in vitro. The current study was designed to explore the effects and the underlying mechanism of allicin on gastric cancer cells. The MTT assay was used to detect cell viability. Transmission electron microscopy, Rh123 and propidium iodide staining, annexin V/FITC assay and the mitochondrial membrane potential were used to assess for the presence of apoptosis. Immunocytochemistry, western blot analysis, and Q-RT-PCR were used to detect gene expression. We found that allicin reduced cell viability in a dose- and time-dependent manner, partly through induction of apoptosis in gastric cancer cells. At the molecular level, allicin induced cytochrome c release from the mitochondria and increased caspase-3, -8, and -9 activation, with concomitant upregulation of bax and fas expression in the tumor cells. Allicin treatment inhibited proliferation and induced apoptosis in SGC-7901 cancer cells. Both intrinsic mitochondrial and extrinsic Fas/FasL-mediated pathways of apoptosis occur simultaneously in SGC-7901 cells following allicin treatment. Data from the current study demonstrated that allicin should be further investigated as a novel cancer preventive or therapeutic agent in control of gastric cancer, with potential uses in other tumor types.