Rosaemary is a very useful herb for many conditions.  The following article shows us the importance of this herb in the prevention of cancer.
The leaves of Rosmarinus officinalis harvested from three different locations of Turkey were extracted by both methanolic and supercritical CO(2) extraction. Subsequently, six extracts and the active compounds, carnosic acid, and rosmarinic acid were applied to various human cancer cell lines including NCI-H82 (human, small cell lung, carcinoma), DU-145 (human, prostate, carcinoma), Hep-3B (human, black, liver, carcinoma, hepatocellular), K-562 (human chronic myeloid leukemia), MCF-7 (human, breast, adenocarcinoma), PC-3 (human, prostate, adenocarcinoma) and MDA-MB-231 (human, breast, adenocarcinoma) by MTT assay. Supercritical CO(2) extracts had superior antiproliferative effect compared to the soxhlet extracts. Although the extracts exhibited various cytotoxic effects against different cell lines, comparatively low IC(50) values ranging between 12.50 and 47.55 microg/ml were attained against K-562, being the most sensitive cell line. Moreover, carnosic acid caused the lowest cell viability with values ranging from 13 to 30 % at a concentration of 19 muM after 48 h of treatments, resulting in superior antiproliferative effect. Rosemary extract is a potential candidate to be included in the anti-cancer diet with pre-determined doses avoiding toxicity.

The following review article shows that acupuncture is useful in the treatment of insomnia.
BACKGROUND: Acupuncture is commonly used in treating insomnia in China, and clinical studies have shown that acupuncture may have a beneficial effect on insomnia compared with Western medication. METHODS: We included randomized controlled trials on acupuncture for insomnia. We searched PubMed, the Cochrane Library (2008 Issue 3), China Network Knowledge Infrastructure (CNKI), Chinese Scientific Journal Database (VIP), and Wan Fang Database. All searches ended in December 2008. Two authors extracted data and assessed the trials' quality independently. RevMan 5.0.17 software was used for data analysis with effect estimate presented as relative risk (RR) and mean difference (MD) with a 95% confidence interval (CI). RESULTS: Forty-six (46) randomized trials involving 3811 patients were included, and the methodological quality of trials was generally fair in terms of randomization, blinding, and intention-to-treat analysis. Meta-analyses showed a beneficial effect of acupuncture compared with no treatment (MD -3.28, 95% CI -6.10 to -0.46, p = 0.02; 4 trials) and real acupressure compared with sham acupressure (MD -2.94, 95% CI -5.77 to -0.11, p = 0.04; 2 trials) on total scores of Pittsburgh Sleep Quality Index. Acupuncture was superior to medications regarding the number of patients with total sleep duration increased for >3 hours (RR 1.53, 95% CI 1.24-1.88, p < 0.0001). However, there was no difference between acupuncture and medications in average sleep duration (MD -0.06, 95% CI -0.30-0.18, p = 0.63). Acupuncture plus medications showed better effect than medications alone on total sleep duration (MD 1.09, 95% CI 0.56-1.61, p < 0.0001). Similarly, acupuncture plus herbs was significantly better than herbs alone on increase of sleep rates (RR 1.67, 95% CI 1.12-2.50, p = 0.01). There were no serious adverse effects with related to acupuncture treatment in the included trials. CONCLUSIONS: Acupuncture appears to be effective in treatment of insomnia. However, further large, rigorous designed trials are warranted.

The following study shows the importance of Calendula as a potent wound healing agent.  Calendula may be used internally as well as externally for help with the healing of wounds.
The effects of oral and topical application of Calendula officinalis flower extract on excision wounds made in rats were checked. The parameters assessed were the days needed for re-epithelization and percentage of wound closure. The hydroxy proline and hexosamine content in the granuloma tissue of the wound was also measured. The percentage of wound closure was 90.0% in the extract-treated group, whereas the control group showed only 51.1% on the eighth day of wounding (p < .01). The days needed for re-epithelization were 17.7 for the control animals; extract treatment at a dose of 20 or 100 mg/kg b.wt reduced the period to 14 and 13 days, respectively. A significant increase was observed in the hydroxy proline and hexosamine content in the extract-treated group compared with the untreated animals. The data indicate potent wound healing activity ofC. officinalis extract.

Spring is in the air and I am hearing many people complain of seasonal allergies.  Nettle extract can be a key component in your fight against seasonal allergies.   The article below explains how nettles works in the body against the  inflammatory response system.
A nettle (Urtica dioica) extract shows in vitro inhibition of several key inflammatory events that cause the symptoms of seasonal allergies. These include the antagonist and negative agonist activity against the Histamine-1 (H(1)) receptor and the inhibition of mast cell tryptase preventing degranulation and release of a host of pro-inflammatory mediators that cause the symptoms of hay fevers. The nettle extract also inhibits prostaglandin formation through inhibition of Cyclooxygenase-1 (COX-1), Cyclooxygenase-2 (COX-2), and Hematopoietic Prostaglandin D(2) synthase (HPGDS), central enzymes in pro-inflammatory pathways. The IC(50) value for histamine receptor antagonist activity was 251 (+/-13) microg mL(-1) and for the histamine receptor negative agonist activity was 193 (+/-71) microg mL(-1). The IC(50) values for inhibition of mast cell tryptase was 172 (+/-28) microg mL(-1), for COX-1 was 160 (+/-47) microg mL(-1), for COX-2 was 275 (+/-9) microg mL(-1), and for HPGDS was 295 (+/-51) microg mL(-1). Through the use of DART TOF-MS, which yields exact masses and relative abundances of compounds present in complex mixtures, bioactives have been identified in nettle that contribute to the inhibition of pro-inflammatory pathways related to allergic rhinitis. These results provide for the first time, a mechanistic understanding of the role of nettle extracts in reducing allergic and other inflammatory responses in vitro. Copyright 2009 John Wiley & Sons, Ltd.

Phytother Res. 2009 Jul;23(7):920-6.

From time to time, many people experience difficulty falling asleep.  The best way to manage your sleep cycle is to have a bedtime routine and stick to the routine every night.  But when your routine does not work nor does the warm glass of milk there are herbal allies which can help.  Passion Flower is one of these herbs.  Next time try a nice cup of tea with Passion Flower in the ingredients.
Extracts and fluid extracts from the aerial parts from Passiflora incarnata L. are widely used as components of herbal sedatives. Many pharmacological investigations confirm the sedative effects of Passiflorae herba. From some of the studies also anxiolytic effects can be deduced. As Passionflower is mainly used in combinations, clinical studies of the single drug are not available. Based on pharmacological data, the experiences of traditional use and the use in combinations Passiflora extracts are an important factor in the phytotherapy of tenseness, restlessness and irritability with difficulty in falling asleep.

Wien Med Wochenschr. 2002;152(15-16):404-6.

St. John's wort is best known for its use in mild to moderate depression.  This article indicates St. John's wort may be beneficial with memory loss due to aging.
St. John's wort (Hypericum perforatum) is one of the leading psychotherapeutic phytomedicines. Beneficial effects of this herb in the treatment of mild to moderate depression are well known. In this study we tested a hypothesis that St. John's wort alleviates age-related memory impairments by increasing the levels of cyclic adenosine 3′, 5′-monophosphate response element binding protein (CREB) and phosphorylated CREB (pCREB) in hippocampus. Middleaged rats (18 month-old) displayed a decline in the acquisition of spatial working memory (p < 0.001) in the Morris water maze (MWM). Chronic administration of Hypericum perforatum (HP) (350 mg/kg for 21 days), potently and significantly improved the processing of spatial information in the aged rats (p < 0.001). Also the herb increased the levels of pCREB in the aged rat's hippocampus (p < 0.01) as measured by western immunoblotting. Aging caused significant locomotor impairments as tested in the open field (p < 0.001) but not in the MWM test. However, these were unaffected by treatment with HP. Thus, this study indicates that St. John's wort effectively prevents aging-induced deterioration of spatial memory in 18 month-old rats, possibly by the activation of CREB regulated genes associated with memory formation. It appears that mechanism is probably inactive in young rats.

Arch Pharm Res. 2010 Mar;33(3):469-77. Epub 2010 Mar 30.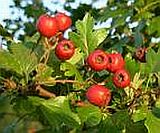 Hawthorn or Crataegus has a long history of use for heart conditions.  After reviewing many studies the consistent conclusion was Hathorn has benefits when treating a variety of conditions of the heart.
Crataegus (hawthorn) has long been used as a folk medicine all around the world. Most of the studies with Crataegus species focus on effects on heart failure and cardiovascular disease. The pharmacological effects of Crataegus have been attributed mainly to the content of flavonoids, procyanidin, aromatic acid and cardiotonic amines. The present study investigated the blood pressure and the structure of the coronary arterial wall of L-NAME-induced hypertensive rats given an aqueous leaf extract of C. tanacetifolia (100 mg/kg), for 4 weeks via gavage. It was observed that C. tanacetifolia, especially the hyperoside fraction, prevented L-NAME-induced hypertension in rats and had beneficial effects on the cardiovascular system. Copyright 2006 John Wiley & Sons, Ltd.

Phytother Res. 2006 Jan;20(1):66-70.