There are many herbal alternatives to DEET.  This study shows how catnip, Napeta cataria, can be a beneficial ingredient to your natural insect repellent.
Abstract

The repellent activity of the essential oilof the catmint plant, Nepetacataria (Lamiaceae), and the main iridoid compounds (4aS,7S,7aR) and (4aS,7S,7aS)-nepetalactone, was assessed against (i) major Afro-tropical pathogen vector mosquitoes, i.e. the malaria mosquito, Anopheles gambiae s.s. and the Southern house mosquito, Culex quinquefasciatus, using a World Health Organisation (WHO)-approved topical application bioassay (ii) the brown ear tick, Rhipicephalus appendiculatus, using a climbing repellency assay, and (iii) the red poultry mite, Dermanyssus gallinae, using field trapping experiments. Gas chromatography (GC) and coupled GC-mass spectrometry (GC-MS) analysis of two N. cataria chemotypes (A and B) used in the repellency assays showed that (4aS,7S,7aR) and (4aS,7S,7aS)-nepetalactone were present in different proportions, with one of the oils (from chemotype A) being dominated by the (4aS,7S,7aR) isomer (91.95% by GC), and the other oil(from chemotype B) containing the two (4aS,7S,7aR) and (4aS,7S,7aS) isomers in 16.98% and 69.83% (by GC), respectively. The sesquiterpene hydrocarbon (E)-(1R,9S)-caryophyllene was identified as the only other major component in the oils (8.05% and 13.19% by GC, respectively). Using the topical application bioassay, the oils showed high repellent activity (chemotype A RD(50)=0.081 mg cm(-2) and chemotype B RD(50)=0.091 mg cm(-2)) for An. gambiae comparable with the synthetic repellent DEET (RD(50)=0.12 mg cm(-2)), whilst for Cx. quinquefasciatus, lower repellent activity was recorded (chemotype A RD(50)=0.34 mg cm(-2) and chemotype B RD(50)=0.074 mg cm(-2)). Further repellency testing against An. gambiae using the purified (4aS,7S,7aR) and (4aS,7S,7aS)-nepetalactone isomers revealed overall lower repellent activity, compared to the chemotype A and B oils. Testing of binary mixtures of the (4aS,7S,7aR) and (4aS,7S,7aS) isomers across a range of ratios, but all at the same overall dose (0.1 mg), revealed not only a synergistic effect between the two, but also a surprising ratio-dependent effect, with lower activity for the pure isomers and equivalent or near-equivalent mixtures, but higher activity for non-equivalent ratios. Furthermore, a binary mixture of (4aS,7S,7aR) and (4aS,7S,7aS) isomers, in a ratio equivalent to that found in chemotype B oil, was less repellent than the oilitself, when tested at two doses equivalent to 0.1 and 0.01 mg chemotype B oil. The three-component blend including (E)-(1R,9S)-caryophyllene at the level found in chemotype B oilhad the same activity as chemotype B oil. In a tick climbing repellency assay using R. appendiculatus, the oils showed high repellent activity comparable with data for other repellent essential oils (chemotype A RD(50)=0.005 mg and chemotype B RD(50)=0.0012 mg). In field trapping assays with D. gallinae, addition of the chemotype A and B oils, and a combination of the two, to traps pre-conditioned with D. gallinae, all resulted in a significant reduction of D. gallinae trap capture. In summary, these data suggest that although the nepetalactone isomers have the potential to be used in human and livestock protection against major pathogen vectors, intact, i.e. unfractionated, Nepetaspp. oils offer potentially greater protection, due to the presence of both nepetalactone isomers and other components such as (E)-(1R,9S)-caryophyllene.

Phytochemistry. 2011 Jan;72(1):109-14. Epub 2010 Nov 4.
The following information gives us a clear understanding of the relationship of melatonin and oxidative stress.
Oxidative stress has been proven to be related to the onset of a large number of health disorders. This chemical stress is triggered by an excess of free radicals, which are generated in cells because of a wide variety of exogenous and endogenous processes. Therefore, finding strategies for efficiently detoxifying free radicals has become a subject of a great interest, from both an academic and practical points of view. Melatonin is a ubiquitous and versatile molecule that exhibits most of the desirable characteristics of a good antioxidant. The amount of data gathered so far regarding the protective action of melatonin against oxidative stress is overwhelming. However, rather little is known concerning the chemical mechanisms involved in this activity. This review summarizes the current progress in understanding the physicochemical insights related to the free radical-scavenging activity of melatonin. Thus far, there is a general agreement that electron transfer and hydrogen transfer are the main mechanisms involved in the reactions of melatonin with free radicals. However, the relative importance of other mechanisms is also analyzed. The chemical nature of the reacting free radical also has an influence on the relative importance of the different mechanisms of these reactions. Therefore, this point has also been discussed in detail in the current review. Based on the available data, it is concluded that melatonin efficiently protects against oxidative stress by a variety of mechanisms. Moreover, it is proposed that even though it has been referred to as the chemical expression of darkness, perhaps it could also be referred to as the chemical light of health.
The following information clearly shows the benefits of taking krill oil for those with inflammatory conditions.
Abstract

OBJECTIVES:

a) To evaluate the effect of Neptune Krill Oil (NKO) on C-reactive protein (CRP) on patients with chronic inflammation and b) to evaluate the effectiveness of NKO on arthritic symptoms.

METHODS:

Randomized, double blind, placebo controlled study. Ninety patients were recruited with confirmed diagnosis of cardiovascular disease and/or rheumatoid arthritis and/or osteoarthritis and with increased levels of CRP (>1.0 mg/dl) upon three consecutive weekly blood analysis. Group A received NKO (300 mg daily) and Group B received a placebo. CRP and Western Ontario and McMaster Universities (WOMAC) osteoarthritis score were measured at baseline and days 7, 14 and 30.

RESULTS:

After 7 days of treatment NKO reduced CRP by 19.3% compared to an increase by 15.7% observed in the placebo group (p = 0.049). After 14 and 30 days of treatment NKO further decreased CRP by 29.7% and 30.9% respectively (p < 0.001). The CRP levels of the placebo group increased to 32.1% after 14 days and then decreased to 25.1% at day 30. The between group difference was statistically significant; p = 0.004 at day 14 and p = 0.008 at day 30. NKO showed a significant reduction in all three WOMAC scores. After 7 days of treatment, NKO reduced pain scores by 28.9% (p = 0.050), reduced stiffness by 20.3% (p = 0.001) and reduced functional impairment by 22.8% (p = 0.008).

CONCLUSION:

The results of the present study clearly indicate that NKO at a daily dose of 300 mg significantly inhibits inflammation and reduces arthritic symptoms within a short treatment period of 7 and 14 days.

The following information offers clear evidence that herbs and vitamins should be considered in the prevention as well as treatment of prostate cancer.
Since the use of dietary supplements as alternative treatments or adjuvant therapies in cancer treatment is growing, a scientific verification of their biological activity and the detailed mechanisms of their action are necessary for the acceptance of dietary supplements in conventional cancer treatments. In the present study we have evaluated the anti-cancer effects of dietary supplement ProstaCaid™ (PC) which contains mycelium from medicinal mushrooms (Ganoderma lucidum, Coriolus versicolor, Phellinus linteus), saw palmetto berry, pomegranate, pumpkin seed, green tea [40% epigallocatechin-3-gallate (EGCG)], Japanese knotweed (50% resveratrol), extracts of turmeric root (BCM-95®), grape skin, pygeum bark, sarsaparilla root, Scutellaria barbata, eleuthero root, Job's tears, astragalus root, skullcap, dandelion, coptis root, broccoli, and stinging nettle, with purified vitamin C, vitamin D3, selenium, quercetin, citrus bioflavonoid complex, β sitosterolzinc, lycopene, α lipoic acid, boron, berberine and 3.3′-diinodolymethane (DIM). We show that PC treatment resulted in the inhibition of cell proliferation of the highly invasive human hormone refractory (independent) PC-3 prostate cancer cells in a dose- and time-dependent manner with IC50 56.0, 45.6 and 39.0 µg/ml for 24, 48 and 72 h, respectively. DNA-microarray analysis demonstrated that PC inhibits proliferation through the modulation of expression of CCND1, CDK4, CDKN1A, E2F1, MAPK6 and PCNA genes. In addition, PC also suppresses metastatic behavior of PC-3 by the inhibition of cell adhesion, cell migration and cell invasion, which was associated with the down-regulation of expression of CAV1, IGF2, NR2F1, and PLAU genes and suppressed secretion of the urokinase plasminogen activator (uPA) from PC-3 cells. In conclusion, the dietary supplement PC is a promising natural complex with the potency to inhibit invasive human prostate cancer.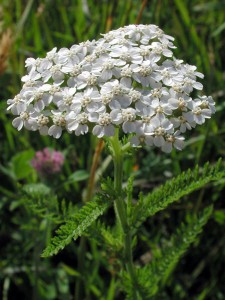 The study below supports the use of yarrow in asthma and hypertension.
Achillea millefolium Linn. (Asteraceae) is used in folk medicine for the treatment of overactive cardiovascular and respiratory ailments. This study describes its hypotensive, cardio-depressant, vasodilatory and bronchodilatory activities. The crude extract of Achillea millefolium (Am.Cr) caused a dose-dependent (1-100 mg/kg) fall in arterial blood pressure of rats under anaesthesia. In spontaneously beating guinea-pig atrial tissues, Am.Cr exhibited negative inotropic and chronotropic effects. In isolated rabbit aortic rings, Am.Cr at 0.3-10 mg/mL relaxed phenylephrine (PE, 1 µm) and high K(+) (80 mm)-induced contractions, as well as suppressed the PE (1 µm) control peaks obtained in Ca(++) -free medium, like that caused by verapamil. The vasodilator effect of Am.Cr was partially blocked by N(ω) -nitro-l-arginine methyl ester in endothelium intact preparations. In guinea-pig tracheal strips, Am.Cr inhibited carbachol (CCh, 1 µm) and K(+) -induced contractions. These results indicate that Achillea millefolium exhibits hypotensive, cardiovascular inhibitory and bronchodilatory effects, thus explaining its medicinal use in hyperactive cardiovascular and airway disorders, such as hypertension and asthma.

Phytother Res. 2011 Apr;25(4):577-83. doi: 10.1002/ptr.3303. Epub 2010 Sep 20.
Brand new meta-analysis of tea researched for lowering prostate cancer risk. The authors looked at 13 studies and found green tea significantly reduced risk. The results aren't stellar, but promising. Here's the abstract:
Observational studies on tea consumption and prostate cancer (PCa) risk
are still inconsistent. The authors conducted a meta-analysis to
investigate the association between green tea and black tea consumption
with PCa risk. Thirteen studies providing data on green tea or black tea
consumption were identified by searching PubMed and ISI Web of Science
databases and secondary referencing qualified for inclusion. A
random-effects model was used to calculate the summary odds ratios (OR)
and their corresponding 95% confidence intervals (CIs). For green tea,
the summary OR of PCa indicated a borderline significant association in
Asian populations for highest green tea consumption vs. non/lowest (OR =
0.62; 95% CI: 0.38-1.01); and the pooled estimate reached statistically
significant level for case-control studies (OR = 0.43; 95% CI:
0.25-0.73), but not for prospective cohort studies (OR = 1.00; 95% CI:
0.66-1.53). For black tea, no statistically significant association was
observed for the highest vs. non/lowest black tea consumption (OR =
0.99; 95% CI: 0.82-1.20). In conclusion, this meta-analysis supported
that green tea but not black tea may have a protective effect on PCa,
especially in Asian populations. Further research regarding green tea
consumption across different regions apart from Asia is needed.
http://www.ncbi.nlm.nih.gov/pubmed/21667398

Peppermint oil is a wonderful alternative option for those suffering from irritable bowel syndrome.
Numerous meta-analyses have recently assessed the overall clinical benefit of single therapy options and groups of therapies in the irritable bowel syndrome (IBS). By large, this should enable physicians to select from a number of therapy options available.

METHODS:

We entered dichotomous outcome data from 121 IBS trials published over the last 35 years with different groups and subgroups of drugs (antispasmodics, motility-affecting agents, antidepressants, peppermint oil), dietary interventions (bran, probiotics), and psychotherapy (cognitive behavioral, psychodynamic, hypnotherapy, relaxation techniques) into meta-analytic tools and estimate the overall efficacy (odds ratio, number needed to treat).

RESULTS:

Highest efficacy is currently found for peppermint oil, followed by psychotherapeutic and psychopharmacological interventions and probiotics. Traditional antispasmodic therapy has a moderate efficacy, whereas the list of (partially failed or cancelled) motility affecting drugs yielded weak clinical results, and therapies by bran and fibers are of no value in IBS.

CONCLUSION:

Evidence-based therapy in IBS provides a number of effective treatment options beyond the fact that many novel compounds under development have failed to reach the market. An algorithm for clinical therapy decision is proposed.
This study demonstrates why parents should speak with their pediatricians for alternative options to antibiotics.
BACKGROUND. Antibiotic exposure in early childhood is a possible contributor to the increasing asthma prevalence in industrialized countries. Although a number of published studies have tested this hypothesis, the results have been conflicting.

 OBJECTIVE. To explore the association between antibiotic exposure before 1 year of age and development of childhood asthma.

 METHODS. Using administrative data, birth cohorts from 1997 to 2003 were evaluated (N = 251817). Antibiotic exposure was determined for the first year of life. After the first 24 months of life, the incidence of asthma was determined in both those exposed and not exposed to antibiotics in the first 12 months of life. Cox proportional hazards models were used to adjust for potential confounders and determine the hazard ratios associated with antibiotic exposure for the development of asthma.

 RESULTS. Antibiotic exposure in the first year of life was associated with a small risk of developing asthma in early childhood after adjusting for gender, socioeconomic status at birth, urban or rural address at birth, birth weight, gestational age, delivery method, frequency of physician visits, hospital visit involving surgery, visits to an allergist, respirologist, or immunologist, congenital anomalies, and presence of otitis media, acute, or chronic bronchitis, and upper and lower respiratory tract infections during the first year of life. As the number of courses of antibiotics increased, this was associated with increased asthma risk, with the highest risk being in children who received >4 courses. All antibiotics were associated with an increased risk of developing asthma, with the exception of sulfonamides.

 CONCLUSIONS. This study provides evidence that the use of antibiotics in the first year of life is associated with a small risk of developing asthma, and this risk increases with the number of courses of antibiotics prescribed.

Pediatrics Vol. 123 No. 3 March 1, 2009.
pp. 1003 -1010


The following study shows the effectiveness of Pycnogenol in the treatment of tinnitus.
The aim of this preliminary evaluation was to study the efficacy of Pycnogenol in improving cochlear flow in patients with mild-to-moderate tinnitus present for at least two weeks (without vertigo or important hearing loss), possibly associated with cochlear hypo-perfusion.

METHODS:

Patients with mild-to-moderate, idiopatic, monolateral tinnitus present for at least 2 weeks were included; no vertigo or important hearing loss had been found in a specific examination. The origin of tinnitus had been sudden (hours or days). Fifty-eight patients used Pycnogenol: 24 used 150 mg/day (group A; mean age 43.2+/-4.3) and 34 patients 100 mg/day (group B: mean age 42.4+/-3.8). Controls included 24 patients (mean age 42.3+/-4.5). The groups were comparable for their clinical problem and age and sex. The average duration of treatment was 34.3+/-3.1 days. No side effects were observed and no drop-outs occurred.

RESULTS:

The variations in cochlear flow velocity (in cm/s at the cochlear artery), at inclusion and after four weeks of treatment indicated that flow velocity at the level of the affected ear was significantly lower (both the diastolic and systolic components; P<0.05) in comparison with the other ear. The treatment favored an improvement in systolic (P<0.05) and diastolic flow velocity (P<0.05) in the two treatment groups A+B. The increase in flow velocity was very limited and not significant in controls.

CONCLUSION:

These results suggest that in selected patients with tinnitus and altered perfusion, Pycnogenol is effective in a short period of time in relieving tinnitus symptoms by improving cochlear blood flow. The effect is more pronounced with higher Pycnogenol dosage. More studies should be planned to better evaluate the pathology and potential applications of Pycnogenol in a larger number of patients who are currently without a real therapeutic solution.
Mushrooms
 have long been recognized for their use in immune support.  This study shows another wonderful benefit to oyster mushrooms.
ABSTRACT:

BACKGROUND:

Mushrooms are well recognized for their culinary properties as well as for their potency to enhance immune response. In the present study, we evaluated anti-inflammatory properties of an edible oyster mushroom (Pleurotus ostreatus) in vitro and in vivo.

METHODS:

RAW264.7 murine macrophage cell line and murine splenocytes were incubated with the oyster mushroom concentrate (OMC, 0-100 ug/ml) in the absence or presence of lipopolysacharide (LPS) or concanavalin A (ConA), respectively. Cell proliferation was determined by MTT assay. Expression of cytokines and proteins was measured by ELISA assay and Western blot analysis, respectively. DNA-binding activity was assayed by the gel-shift analysis. Inflammation in mice was induced by intraperitoneal injection of LPS.

RESULTS:

OMC suppressed LPS-induced secretion of tumor necrosis factor-alpha (TNF-a), interleukin-6 (IL-6), and IL-12p40 from RAW264.7 macrophages. OMC inhibited LPS-induced production of prostaglandin E2 (PGE2) and nitric oxide (NO) through the down-regulation of expression of COX-2 and iNOS, respectively. OMC also inhibited LPS-dependent DNA-binding activity of AP-1 and NF-kB in RAW264.7 cells. Oral administration of OMC markedly suppressed secretion of TNF-a and IL-6 in mice challenged with LPS in vivo. Anti-inflammatory activity of OMC was confirmed by the inhibition of proliferation and secretion of interferon-gamma (IFN-g), IL-2, and IL-6 from concanavalin A (ConA)-stimulated mouse splenocytes.

CONCLUSIONS:

Our study suggests that oyster mushroom possesses anti-inflammatory activities and could be considered a dietary agent against inflammation. The health benefits of the oyster mushroom warrant further clinical studies.

Nutr J. 2011 May 16;10(1):52.