The following information gives us a clear description of the differences between healthy and non healthy fats in our diets.  Coconut oil is an excellent example of a quality and healthy fat that should be considered for our diets.
Fat is generally a highly valued element of the diet to provide energy, palatability to dry foods or to serve as a cooking medium. However, some foods rich in fat have a low fat quality with respect to nutrition, i.e., a relative high content of saturated (SFA) as compared to unsaturated fatty acids, whereas others have a more desirable fat quality, i.e., a relative high content of unsaturated fatty acids as compared to SFA. High-fat dairy products and fatty meats are examples of foods with low fat quality, whereas vegetable oils (tropical oils such as palm and coconut oil excluded) are products with a generally high fat quality. The aim of this paper is to explore the nutritional impact of products made of vegetable oils, e.g. margarines and dressings, and how they can be designed to contribute to good health. Since their first industrial production, the food industry has endeavored to improve products like margarines, including their nutritional characteristics. With evolving nutrition science, margarines and cooking products, and to a lesser extent dressings, have been adapted to contain less trans fatty acids (TFA), less SFA and more essential (polyunsaturated, PUFA) fatty acids. This has been possible by using careful fat and oil selection and modification processes. By blending vegetable oils rich in the essential PUFAs alpha-linolenic acid (vegetable omega-3) or linoleic acid (omega-6), margarines and dressings with both essential fatty acids present in significant quantities can be realized. In addition, full hydrogenation and fat rearrangement have enabled the production of cost-effective margarines virtually devoid of TFA and low in SFA. Dietary surveys indicate that vegetable oils, soft margarines and dressings are indeed often important sources of essential fatty acids in people's diets, whilst providing negligible amounts of TFA and contributing modestly to SFA intakes. Based on empirical and epidemiological data, the public health benefit of switching from products with a low fat quality to products with a high fat quality can be predicted. For example, switching from butter or palm oil to a soft margarine shows a substantial improvement in the nutritional quality of the diet. These simple, practical dietary adaptations can be expected to contribute to the healthy growth and development of children and to reduce the burden of cardiovascular disease.
Probiotics are of great value to our overall health as outlined in the following study.
There are a variety of conditions in which the use of pro-biotics has proven effective:diarrhoea with its various causes, inflammatory bowel diseases, irritable bowel disease, colon cancer chemoprevention and hepato-portal encefalopathy. The pro-biotics have shown to be a promising therapeutical alternative for the future due to their lack of side effects and convenient mode of administration. Further, the potential of other pro-biotics is awaiting validation by clinical trials.
Barberry (Berberis vulgaris)is an herb which is not often discussed.  Like goldenseal (Hydrastis canadensis) it also contains berberine which herbalists use for its antibacterial properities and to help support the immune system.  The study belows indicates barberry has antioxidant activity which suggest its use would be beneficial for the support of the immune system.
Antioxidant activities of the ethanolic extracts of roots, twigs and leaves of common barberry (Berberis vulgaris L.) and Croatian barberry (Berberis croatica Horvat) were studied. All the extracts were found to possess some radical-scavenging and antioxidant activities, as determined by scavenging effect on the DPPH free radical, reducing power and beta-carotene-linoleic acid model system. With the exception of the beta-carotene-linoleic acid test, antioxidant activity correlated well with the content of main plant antioxidants, phenols and flavonols, which suggests an important role of these compounds in overall antioxidant activity of investigated plant organs. The antioxidant activity varied mostly in relation to the organ, while no significant statistically differences were found between B. vulgaris and B. croatica.

Food Chem Toxicol. 2010 Aug-Sep;48(8-9):2176-80. Epub 2010 May 17.
It is that time of year when dandelions are popping up in lawns everywhere.  It has long been known by herbalist what to do with these plants.  The leaves are a rich source of vitamins, minerals and has diuretic, choleretic and anti-inflammatory actions.  The root has choleretic, cholagogue, tonic, anti-rheumatic, bitter and alterative actions. 
Below is a study supporting many of dandelion's wonderful actions.   
The genus Taraxacum is a member of the family Asteraceae, subfamily Cichorioideae, tribe Lactuceae and widely distributed in the warmer temperate zones of the Northern Hemisphere. The perennial weed has been known since ancient times for its curative properties and has been utilized for the treatment of various ailments such as dyspepsia, heartburn, spleen and liver complaints, hepatitis and anorexia. However, its use has mainly been based on empirical findings. This contribution provides a comprehensive review of the pharmacologically relevant compounds of Taraxacum characterized so far and of the studies supporting its use as a medicinal plant. Particular attention has been given to diuretic, choleretic, anti-inflammatory, anti-oxidative, anti-carcinogenic, analgesic, anti-hyperglycemic, anti-coagulatory and prebiotic effects. Finally, research needs such as quantification of individual Taraxacum constituents and assessment of their pharmacological activities in humans have briefly been outlined.

J Ethnopharmacol. 2006 Oct 11;107(3):313-23. Epub 2006 Jul 22.

Head and body lice are not the most pleasant of topics but we see in this article the effectiveness of Neem in getting rid of these unsavory bugs.
The eggs (nits) of head and body lice (Pediculus humanus capitis, Pediculus humanus corporis) were incubated for 5, 10, 15, 20, 30 or 45 min into a neem seed extract contained in a fine shampoo formulation (e.g. Wash Away® Louse), which is known for its significant killing effects of larvae and adults of head lice. The aim of the study was to test whether the developmental stages inside the eggs are also killed after the incubation into the shampoo. It was found that an incubation time of only 5 min was sufficient to prohibit any hatching of larvae, whilst 93 ± 4% of the larvae in the untreated controls of body lice hatched respectively about 76% of the controls in the case of head lice. Apparently, the neem-based shampoo blocked the aeropyles of the eggs, thus preventing the embryos of both races of lice from accessing oxygen and from releasing carbon dioxide. Thus, this product offers a complete cure from head lice upon a single treatment, if the lice (motile stages, eggs) are fully covered for about 10 min.

Pulsatilla is a beautiful flower with powerful medicine.  The following shows its antimicrobial uses in the treatment of acne.
Quinone type compound, pulsaquinone 1, isolated from the aqueous ethanol extract of the roots of Pulsatilla koreana exhibited antimicrobial activities against an anaerobic non-spore-forming gram-positive bacillus, Propionibacterium acnes, which is related with the pathogenesis of the inflamed lesions in a common skin disease, acne vulgaris. Compound 1 was unstable on standing and thus converted to more stable compound 2, namely hydropulsaquinone by hydrogenation, whose activity was comparable to mother compound 1 (MIC for 1 and 2 against P. acnes: 2.0 and 4.0 microg/mL, respectively). Other structurally-related quinone derivatives (3-13) were also tested for structure-activity relationship against anaerobic and aerobic bacteria, and fungi. The antimicrobial activity was fairly good when the quinone moiety was fused with a nonpolar 6- or 7-membered ring on the right side whether or not conjugated (1,4-naphtoquinone derivatives 3-5), while simple quinone compounds 6-9 showed poor activity. It seems that the methoxy groups at the left side of the quinone function deliver no considerable antimicrobial effect.
Lemon Verbena is not only an herb with a delecious flavor but as the article below states, it is used for its antioxidant consitutents.
Abstract Because of its good sensorial attributes, lemon verbena is used as a primary ingredient in infusions and nonalcoholic drinks. The present study was designed to assess the antioxidant activity (AA) of lemon verbena infusion (LVI) as well as the thermal stability of its AA and the content of polyphenolic compounds. The values reflecting the AA of LVI, including AA index, fast scavenging rate against 2,2-diphenyl-1-picrylhydrazyl, Trolox equivalent antioxidant capacity, and hydroxyl radical scavenging, are higher than those of many herbal infusions and antioxidant drinks estimated from reported data. In addition, the slope lag time and specific oxyradical antioxidant capacity values of LVI are comparable to those of a commercial antioxidant drink based on green tea. Hence, LVI is a source of bifunctional antioxidants, and thus in vivo studies of the antioxidant capacity of LVI would be useful to evaluate its potential as an ingredient in antioxidant drinks.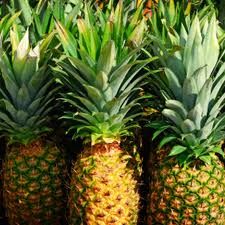 Bromelain has many wonderful uses.  The following information shows its usefulness as a safe and effective digestive aide.
This article reviews various forms of enzyme supplementation used clinically in digestive and absorption disorders. Enzyme supplementation plays an integral role in the management of various digestive disorders, particularly with regard to exocrine pancreatic insufficiency. However, application of enzymes may also be beneficial for other conditions associated with poor digestion including lactose intolerance. Historically, porcine and bovine pancreatic enzymes have been the preferred form of supplementation for exocrine pancreatic insufficiency. Use of microbe-derived lipase has shown promise with studies indicating benefit similar to pancreatic enzymes, but at a lower dosage concentration and with a broader pH range. Safety and efficacy of enzymes derived from microbial species in the treatment of conditions such as malabsorption and lactose intolerance is promising. Plant-based enzymes, such as bromelain from pineapple, serve as effective digestive aids in the breakdown of proteins. Synergistic effects have been observed using a combination of animal-based enzymes and microbe-derived enzymes or bromelain.

Holy Basil, Ocimum sanctum, has been used for thousands of years for its help with stress. 
Three new compounds, ocimumosides A (1) and B (2) and ocimarin (3), were isolated from an extract of the leaves of holy basil (Ocimum sanctum), together with eight known substances, apigenin, apigenin-7-O-beta-D-glucopyranoside, apigenin-7-O-beta-D-glucuronic acid ( 4), apigenin-7- O-beta- d-glucuronic acid 6"-methyl ester, luteolin-7-O-beta-D-glucuronic acid 6"-methyl ester, luteolin-7-O-beta-D-glucopyranoside, luteolin-5-O-beta-D-glucopyranoside, and 4-allyl-1-O-beta-D-glucopyronosyl-2-hydroxybenzene (5), and two known cerebrosides. The structures of the new compounds were determined on the basis of extensive 1D and 2D NMR spectroscopic analysis. The new compounds (1- 3) and the known compounds 4 and 5 were screened at a dose of 40 mg/kg body weight for acute stress-induced biochemical changes in male Sprague-Dawley rats. Compound 1 displayed promising antistress effects by normalizing hyperglycemia, plasma corticosterone, plasma creatine kinase, and adrenal hypertrophy. Compounds 2 and 5 were also effective in normalizing most of these stress parameters.