Eleuthero, the herb formerly known as Siberian Ginseng, is one of my favorites.
It always has been. This classic adaptogen has been researched historically for its effects in enhancing physical and mental performance, for reducing stress, for protecting the heart against ischemia, protecting against liver toxicity and stimulating the immune system. The latest research, however, is about its effects on diabetes, an effect that has apparently been linked to a natural constituents of the herb, syringin.
An article in Planta Medica explore the effect of syringin in diabetic rats. When syringin was ejected interventionists late, plasma glucose levels decreased in a dose dependent fashion. It also modulated the plasma glucose spike caused by glucose challenge testing. The authors conclude "The ability of syringin to enhance glucose utilization and lower plasma glucose level in rats suffering from insulin deficiency suggested that this chemical may be useful in the treatment of human diabetes."
Planta Med. 2008 Feb;74(2):109-13. Epub 2008 Jan 17.
Hypoglycemic effect of syringin from Eleutherococcus senticosus in streptozotocin-induced diabetic rats. Niu HS, Liu IM, Cheng JT, Lin CL, Hsu FL. Graduate Institute of Pharmacognosy, College of Pharmacy, Taipei Medical University, Taipei, Taiwan
To further elucidate the action of this compound, and of this plant, the same authors published another article showing one mechanism of action, "enhancing the secretion of beta endorphins from adrenal medulla to stimulate peripheral micro-opioid receptors resulting in a decrease of plasma glucose in diabetic rats lacking insulin."
Horm Metab Res. 2007 Dec;39(12):894-8. Increase of beta-endorphin secretion by syringin, an active principle of Eleutherococcus senticosus, to produce antihyperglycemic action in type 1-like diabetic rats. Niu HS, Hsu FL, Liu IM, Cheng JT.
A new book based on research funded by the National Institutes of Health explores the use of dietary supplements by military personnel. One of the best things about this book? It's available online in its entirety, HERE. It reports on research conducted by a committee chosen to "identify those that may be of benefit or might pose serious hazards." the committee selected supplements to review "based on their frequency of use, potential for adverse events, and interest for the military." The supplements considered in the book are caffeine, chromium, creatine, dehydroepiandrosterone (DHEA), Ephedra, garlic, Ginkgo biloba, ginseng, β-hydroxy-β-methylbutyrate (HMB), melatonin, quercetin, sports bars, sports drinks, tyrosine, and valerian. Overall, the book takes a skeptical view of these supplements, mostly because of insufficient high quality research. Here are some highlights: Read more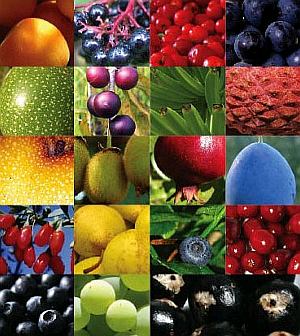 An article in Agricultural Research, a US government publication, points out the importance of consuming antioxidants with every meal.
In the process of breaking down and metabolizing food, our bodies generate a lot of free radicals. "And without any antioxidants present, like those from colorful fruits and vegetables, for instance, there's nothing to counteract this detrimental effect," says Ronald Prior, a chemist at USDA's Arkansas Children's Nutrition Center in Little Rock.

Antioxidants can almost be viewed as an antidote to the body's problematic, not-100-percent-effective, energy-processing system.

Peabody, Erin. "A daily dose of antioxidants?(Providing the Foundation for Healthy Food Choices)." Agricultural Research. U.S. Government Printing Office. 2008.
The HerbSelect program is brand new (no pun intended). We're reviewing product recommendations now and will be posting them in the near future. Thanks for your interest in this first-ever program from the Herb Research Foundation.
Tiger Woods says his experience with the "calming" alkaloid l-theanine in the form of Gatorade Tiger Focus, "is taking me someplace I never imagined." An article in The Gazette, May 24, 2009 details some of the research on theanine and the "tea paradox" of how a caffeinated beverage can be described as "calming."

A relaxed, awake state is associated with Alpha waves, and an awake and excited brain will emit high frequency Beta waves. Caffeine can be shown to suppress theta and alpha waves, while promoting the beta waves that are linked with stress and anxiety. So, what does theanine do?
A number of studies have confirmed that within 30 minutes of ingesting theanine, there is a measurable enhancement of alpha wave activity, implying an alert but relaxed state.
And while clinical studies to date don't show an improvement in memory or mental function in humans, rodent studies show some promise. The dose of theanine in the Gatorade product, 25 mg per serving, is below the levels used in studies, but tea itself does fall within the range of use that affects alpha brain waves.
Green Tea is one of the most extensively, and successfully, researched herbs in the world today. It was first noticed several decades ago, that people involved in presenting the green tea ceremonies had remarkably low incidence of cancer. Hundreds of studies later, we now know that green tea, and in fact all tea (Camellia sinensis) as a wide range of beneficial properties for reducing risks of cancer, heart disease and liver disease, plus antioxidant properties, benefits for the skin and much more. We hear present some of the recent research on tea and its antioxidant polyphenols.
For all the latest news on tea, click Tea under Categories to the right.
Tea Antiinflammatory
Green tea polyphenols such as EGCG have potent anti-inflammatory properties. Prior research had shown that EGCG inhibits tumor necrosis factor through a mechanism that was thought to have implications for inflammation generally. Epidemiological studies link regular consumption of tea with decreased cancer risk and a reduction in mortality during the 12 month period following a heart attack. "Considerably less is known regarding the mechanisms by which tea confers these health benefits." The present research demonstrates one important mechanism Read more
The thermogenic effect of tea is generally attributed to its caffeine content. An article in Alternative Medicine Review reports that green tea extract stimulates brown adipose tissue thermogenesis to an extent which is much greater than can be attributed to its caffeine content alone. Read more
The incidence of late onset breast cancer has been increasing dramatically in the United States. Since genetic factors are believed to result primarily in early onset cases, accumulation of environmental toxins has been proposed as one factor in the increased incidence. Research reported in the Journal of Nutrition demonstrates that EGCG can protect mice against carcinogen induced breast tumors. The green tea polyphenol significantly decreased mammary tumor burden and invasiveness and significantly increased latency to the first tumor. The authors suggest "the ability of EGCG and other tea polyphenols to inhibit carcinogenesis make EGCG a good template for deriving small molecule drugs. Modifications and structure may improve the pharmacokinetics and effectiveness. As a readily available dietary substance, it holds promise for prevention of early-stage cancer." FULL ARTICLE –> Read more
In studies conducted on human skin, green tea polyphenols prevented ultraviolet (UVB) induced chemical changes in the skin, which are considered to be mediators of UVB induced immunosuppression and skin cancer induction. GTP treated humans can prevented penetration of UV radiation, and protected against UVB-induced local as well as systemic immune suppression in laboratory animals. "These in vivo observations suggest that GTP is our photo protective and can be used as pharmacological agents for the prevention of solar UVB light induced skin disorders associated with immune suppression and DNA damage."
Alternative Medicine Review April 1, 2002 Bergamo, BM; Elmets, CA; Katiyar, SK; Vyalil, PK

Green tea polyphenols: DNA photodamage and photoimmunology.(Abstract)

atiyar SK, Bergamo BM, Vyalil PK, Elmets CA. J Photochem Photobiol B 2001;6:109-114.

Green tea is a popular beverage consumed worldwide. The epicatechin derivatives, which are commonly called `polyphenols', are the active ingredients in green tea and possess antioxidant, anti-inflammatory and anti-carcinogenic properties. Studies conducted by our group on human skin have demonstrated that green tea polyphenols (GTP) prevent ultraviolet (UV)-B-induced cyclobutane pyrimidine dimers (CPD), which are considered to be mediators of UVB-induced immune suppression and skin cancer induction. GTP treated human skin prevented penetration of UV radiation, which was demonstrated by the absence of immunostaining for CPD in the reticular dermis. The topical application of GTP or its most potent chemopreventive constituent (-)-epigallocatechin-3-gallate (EGCG) prior to exposure to UVB protects against UVB-induced local as well as systemic immune suppression in laboratory animals. Additionally, studies have shown that EGCG treatment of mouse skin inhibits UVB-induced infiltration of CD11b+ cells. CD11b is a cell surface marker for activated macrophages and neutrophils, which are associated with induction of UVB-induced suppression of contact hypersensitivity responses. EGCG treatment also results in reduction of the UVB-induced immunoregulatory cytokine interleukin (IL)-10 in skin as well as in draining lymph nodes, and an elevated amount of IL-12 in draining lymph nodes. These in vivo observations suggest that GTPs are photoprotective, and can be used as pharmacological agents for the prevention of solar UVB light-induced skin disorders associated with immune suppression and DNA damage.
Recent research published in the American Journal of Physiology Endocrinology And Metabolism describes wide-ranging cardiovascular protective functions of a green tea polyphenol, EGCG. EGCG improved endothelial function and insulin sensitivity, reduced blood pressure and protected against myocardial ischemia and reperfusion injury. The addition of improvements in insulin sensitivity to the cardiovascular benefits indicates the benefit of green tea polyphenols against metabolic syndrome with hypertension, insulin resistance and overweight.
Am J Physiol Endocrinol Metab, 2007 Jan 16; [Epub ahead of print]Potenza MA, Marasciulo FL, Tarquinio M, et al.
Epigallocatechin gallate (EGCG), a bioactive polyphenol in green tea, may augment metabolic and vascular actions of insulin. We investigated effects of EGCG treatment to simultaneously improve cardiovascular and metabolic function in SHR rats (model of metabolic syndrome with hypertension, insulin resistance, and overweight). In acute studies, EGCG (1-100 microM) elicited dose-dependent vasodilation in mesenteric vascular beds (MVB) from SHR ex vivo, inhibitable by L-NAME (NOS antagonist) or wortmannin (PI 3-kinase inhibitor). In chronic studies, 9-wk old SHR were treated by gavage for 3 weeks with EGCG (200 mg/kg/d), enalapril (30 mg/kg/d), or vehicle. A separate group of SHR receiving L-NAME (80 mg/L in drinking water) was treated for 3 weeks with either EGCG or vehicle. Vasodilator actions of insulin were significantly improved in MVB from EGCG- or enalapril-treated SHR (compared with vehicle-SHR). Both EGCG and enalapril therapy significantly lowered systolic blood pressure (SBP) in SHR. EGCG therapy of SHR significantly reduced infarct size and improved cardiac function in Langendorff-perfused hearts exposed to ischemia/reperfusion injury (I/R). In SHR given L-NAME, effects of EGCG on SBP and I/R were not observed. Both enalapril and EGCG treatment of SHR improved insulin sensitivity and raised plasma adiponectin. We conclude that acute actions of EGCG to stimulate production of NO from endothelium using PI 3-kinase dependent pathways may explain, in part, beneficial effects of EGCG therapy to simultaneously improve metabolic and cardiovascular pathophysiology in SHR. These findings may be relevant to understanding potential benefits of green tea consumption in patients with metabolic syndrome.