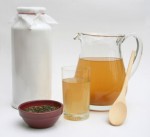 This popular drink is now being sold in most stores when just a few years ago it could only be found in health food stores.  This article indicates kombucha is beneficial against liver disease.
Abstract

Kombucha, a fermented tea (KT) is claimed to possess many beneficial properties. Recent studies have suggested that KT prevents paracetamol and carbon tetrachloride-induced hepatotoxicity. We investigated the beneficial role of KT was against tertiary butyl hydroperoxide (TBHP) induced cytotoxicity and cell death in murine hepatocytes. TBHP is a well known reactive oxygen species (ROS) inducer, and it induces oxidative stress in organ pathophysiology. In our experiments, TBHP caused a reduction in cell viability, enhanced the membrane leakage and disturbed the intra-cellular antioxidant machineries while simultaneous treatment of the cells with KT and this ROS inducer maintained membrane integrity and prevented the alterations in the cellular antioxidant status. These findings led us to explore the detailed molecular mechanisms involved in the protective effect of KT. TBHP introduced apoptosis as the primary phenomena of cell death as evidenced by flow cytometric analyses. In addition, ROS generation, changes in the mitochondrial membrane potential, cytochrome c release, activation of caspases (3 and 9) and Apaf-1 were detected confirming involvement of mitochondrial pathway in this pathophysiology. Simultaneous treatment of KT with TBHP, on the other hand, protected the cells against oxidative injury and maintained their normal physiology. In conclusion, KT was found to modulate the oxidative stress induced apoptosis in murine hepatocytes probably due to its antioxidant activity and functioning via mitochondria dependent pathways and could be beneficial against liver diseases, where oxidative stress is known to play a crucial role.

Pathophysiology. 2011 Jun;18(3):221-34. Epub 2011 Mar 8.
This study shows the benefits of omega-3 supplementation.
Abstract
Observational studies have linked lower omega-3 (n-3) polyunsaturated fatty acids (PUFAs) and higher omega-6 (n-6) PUFAs with inflammation and depression, but randomized controlled trial (RCT) data have been mixed. To determine whether n-3 decreases proinflammatory cytokine production and depressive and anxiety symptoms in healthy young adults, this parallel group, placebo-controlled, double-blind 12-week RCT compared n-3 supplementation with placebo. The participants, 68 medical students, provided serial blood samples during lower-stress periods as well as on days before an exam. The students received either n-3 (2.5g/d, 2085mg eicosapentaenoic acid and 348mg docosahexanoic acid) or placebo capsules that mirrored the proportions of fatty acids in the typical American diet. Compared to controls, those students who received n-3 showed a 14% decrease in lipopolysaccharide (LPS) stimulated interleukin 6 (IL-6) production and a 20% reduction in anxiety symptoms, without significant change in depressive symptoms. Individuals differ in absorption and metabolism of n-3 PUFA supplements, as well as in adherence; accordingly, planned secondary analyses that used the plasma n-6:n-3 ratio in place of treatment group showed that decreasing n-6:n-3 ratios led to lower anxiety and reductions in stimulated IL-6 and tumor necrosis factor alpha (TNF-α) production, as well as marginal differences in serum TNF-α. These data suggest that n-3 supplementation can reduce inflammation and anxiety even among healthy young adults. The reduction in anxiety symptoms associated with n-3 supplementation provides the first evidence that n-3 may have potential anxiolytic benefits for individuals without an anxiety disorder diagnosis. ClinicalTrials.gov identifier: NCT00519779.

Copyright © 2011 Elsevier Inc. All rights reserved.

Brain Behav Immun. 2011 Jul 19.
This article outlines the history  of  Verbascum thapsus, mullien, and its potential benefits for use with tuberculosis.  For a link to read the complete article click on Verbascum thapsus.
Abstract

Common mullein weed (Verbascum thapsus ) has a large number of synonyms and old local "nick names" which connect the plant with mycobacteria. A strong history of medicinal use has been uncovered for the treatment of tuberculosis, tubercular skin disease, leprosy, and mycobacterial disease in animals. Here, we examine problems encountered in treating such diseases today, the historical and scientific links between mullein and pathogenic bacteria, and the possibility that this common weed could harbour the answer to beating one of the world's biggest infectious killers.

Evid Based Complement Alternat Med. 2011;2011. pii: 239237. Epub 2010 Sep 19.
When a study illustrates all healing aspects of an herb and calls it a "cure-all", I feel it is worth a read.  Western herbalists have known the worth of Gotu Kola, Centella asiatica.  At the end of the abstract, I have attached a link to the complete study.
Abstract
In recent times, focus on plant research has increased all over the world. Centella asiatica is an important medicinal herb that is widely used in the orient and is becoming popular in the West. Triterpenoid, saponins, the primary constituents of Centellaasiatica are manly believed to be responsible for its wide therapeutic actions. Apart from wound healing, the herb is recommended for the treatment of various skin conditions such as leprosy, lupus, varicose ulcers, eczema, psoriasis, diarrhoea, fever, amenorrhea, diseases of the female genitourinary tract and also for relieving anxiety and improving cognition. The present review attempts to provide comprehensive information on pharmacology, mechanisms of action, various preclinical and clinical studies, safety precautions and current research prospects of the herb. At the same time, studies to evaluate the likelihood of interactions with drugs and herbs on simultaneous use, which is imperative for optimal and safe utilization of the herb, are discussed.

Indian J Pharm Sci. 2010 Sep;72(5):546-56.

http://www.ncbi.nlm.nih.gov/pmc/articles/PMC3116297/?tool=pubmed
There are many herbal alternatives to DEET.  This study shows how catnip, Napeta cataria, can be a beneficial ingredient to your natural insect repellent.
Abstract

The repellent activity of the essential oilof the catmint plant, Nepetacataria (Lamiaceae), and the main iridoid compounds (4aS,7S,7aR) and (4aS,7S,7aS)-nepetalactone, was assessed against (i) major Afro-tropical pathogen vector mosquitoes, i.e. the malaria mosquito, Anopheles gambiae s.s. and the Southern house mosquito, Culex quinquefasciatus, using a World Health Organisation (WHO)-approved topical application bioassay (ii) the brown ear tick, Rhipicephalus appendiculatus, using a climbing repellency assay, and (iii) the red poultry mite, Dermanyssus gallinae, using field trapping experiments. Gas chromatography (GC) and coupled GC-mass spectrometry (GC-MS) analysis of two N. cataria chemotypes (A and B) used in the repellency assays showed that (4aS,7S,7aR) and (4aS,7S,7aS)-nepetalactone were present in different proportions, with one of the oils (from chemotype A) being dominated by the (4aS,7S,7aR) isomer (91.95% by GC), and the other oil(from chemotype B) containing the two (4aS,7S,7aR) and (4aS,7S,7aS) isomers in 16.98% and 69.83% (by GC), respectively. The sesquiterpene hydrocarbon (E)-(1R,9S)-caryophyllene was identified as the only other major component in the oils (8.05% and 13.19% by GC, respectively). Using the topical application bioassay, the oils showed high repellent activity (chemotype A RD(50)=0.081 mg cm(-2) and chemotype B RD(50)=0.091 mg cm(-2)) for An. gambiae comparable with the synthetic repellent DEET (RD(50)=0.12 mg cm(-2)), whilst for Cx. quinquefasciatus, lower repellent activity was recorded (chemotype A RD(50)=0.34 mg cm(-2) and chemotype B RD(50)=0.074 mg cm(-2)). Further repellency testing against An. gambiae using the purified (4aS,7S,7aR) and (4aS,7S,7aS)-nepetalactone isomers revealed overall lower repellent activity, compared to the chemotype A and B oils. Testing of binary mixtures of the (4aS,7S,7aR) and (4aS,7S,7aS) isomers across a range of ratios, but all at the same overall dose (0.1 mg), revealed not only a synergistic effect between the two, but also a surprising ratio-dependent effect, with lower activity for the pure isomers and equivalent or near-equivalent mixtures, but higher activity for non-equivalent ratios. Furthermore, a binary mixture of (4aS,7S,7aR) and (4aS,7S,7aS) isomers, in a ratio equivalent to that found in chemotype B oil, was less repellent than the oilitself, when tested at two doses equivalent to 0.1 and 0.01 mg chemotype B oil. The three-component blend including (E)-(1R,9S)-caryophyllene at the level found in chemotype B oilhad the same activity as chemotype B oil. In a tick climbing repellency assay using R. appendiculatus, the oils showed high repellent activity comparable with data for other repellent essential oils (chemotype A RD(50)=0.005 mg and chemotype B RD(50)=0.0012 mg). In field trapping assays with D. gallinae, addition of the chemotype A and B oils, and a combination of the two, to traps pre-conditioned with D. gallinae, all resulted in a significant reduction of D. gallinae trap capture. In summary, these data suggest that although the nepetalactone isomers have the potential to be used in human and livestock protection against major pathogen vectors, intact, i.e. unfractionated, Nepetaspp. oils offer potentially greater protection, due to the presence of both nepetalactone isomers and other components such as (E)-(1R,9S)-caryophyllene.

Phytochemistry. 2011 Jan;72(1):109-14. Epub 2010 Nov 4.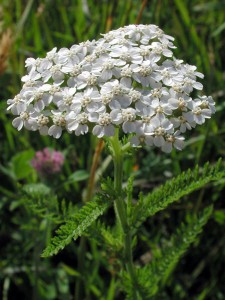 The study below supports the use of yarrow in asthma and hypertension.
Achillea millefolium Linn. (Asteraceae) is used in folk medicine for the treatment of overactive cardiovascular and respiratory ailments. This study describes its hypotensive, cardio-depressant, vasodilatory and bronchodilatory activities. The crude extract of Achillea millefolium (Am.Cr) caused a dose-dependent (1-100 mg/kg) fall in arterial blood pressure of rats under anaesthesia. In spontaneously beating guinea-pig atrial tissues, Am.Cr exhibited negative inotropic and chronotropic effects. In isolated rabbit aortic rings, Am.Cr at 0.3-10 mg/mL relaxed phenylephrine (PE, 1 µm) and high K(+) (80 mm)-induced contractions, as well as suppressed the PE (1 µm) control peaks obtained in Ca(++) -free medium, like that caused by verapamil. The vasodilator effect of Am.Cr was partially blocked by N(ω) -nitro-l-arginine methyl ester in endothelium intact preparations. In guinea-pig tracheal strips, Am.Cr inhibited carbachol (CCh, 1 µm) and K(+) -induced contractions. These results indicate that Achillea millefolium exhibits hypotensive, cardiovascular inhibitory and bronchodilatory effects, thus explaining its medicinal use in hyperactive cardiovascular and airway disorders, such as hypertension and asthma.

Phytother Res. 2011 Apr;25(4):577-83. doi: 10.1002/ptr.3303. Epub 2010 Sep 20.
This study demonstrates why parents should speak with their pediatricians for alternative options to antibiotics.
BACKGROUND. Antibiotic exposure in early childhood is a possible contributor to the increasing asthma prevalence in industrialized countries. Although a number of published studies have tested this hypothesis, the results have been conflicting.

 OBJECTIVE. To explore the association between antibiotic exposure before 1 year of age and development of childhood asthma.

 METHODS. Using administrative data, birth cohorts from 1997 to 2003 were evaluated (N = 251817). Antibiotic exposure was determined for the first year of life. After the first 24 months of life, the incidence of asthma was determined in both those exposed and not exposed to antibiotics in the first 12 months of life. Cox proportional hazards models were used to adjust for potential confounders and determine the hazard ratios associated with antibiotic exposure for the development of asthma.

 RESULTS. Antibiotic exposure in the first year of life was associated with a small risk of developing asthma in early childhood after adjusting for gender, socioeconomic status at birth, urban or rural address at birth, birth weight, gestational age, delivery method, frequency of physician visits, hospital visit involving surgery, visits to an allergist, respirologist, or immunologist, congenital anomalies, and presence of otitis media, acute, or chronic bronchitis, and upper and lower respiratory tract infections during the first year of life. As the number of courses of antibiotics increased, this was associated with increased asthma risk, with the highest risk being in children who received >4 courses. All antibiotics were associated with an increased risk of developing asthma, with the exception of sulfonamides.

 CONCLUSIONS. This study provides evidence that the use of antibiotics in the first year of life is associated with a small risk of developing asthma, and this risk increases with the number of courses of antibiotics prescribed.

Pediatrics Vol. 123 No. 3 March 1, 2009.
pp. 1003 -1010

Mushrooms
 have long been recognized for their use in immune support.  This study shows another wonderful benefit to oyster mushrooms.
ABSTRACT:

BACKGROUND:

Mushrooms are well recognized for their culinary properties as well as for their potency to enhance immune response. In the present study, we evaluated anti-inflammatory properties of an edible oyster mushroom (Pleurotus ostreatus) in vitro and in vivo.

METHODS:

RAW264.7 murine macrophage cell line and murine splenocytes were incubated with the oyster mushroom concentrate (OMC, 0-100 ug/ml) in the absence or presence of lipopolysacharide (LPS) or concanavalin A (ConA), respectively. Cell proliferation was determined by MTT assay. Expression of cytokines and proteins was measured by ELISA assay and Western blot analysis, respectively. DNA-binding activity was assayed by the gel-shift analysis. Inflammation in mice was induced by intraperitoneal injection of LPS.

RESULTS:

OMC suppressed LPS-induced secretion of tumor necrosis factor-alpha (TNF-a), interleukin-6 (IL-6), and IL-12p40 from RAW264.7 macrophages. OMC inhibited LPS-induced production of prostaglandin E2 (PGE2) and nitric oxide (NO) through the down-regulation of expression of COX-2 and iNOS, respectively. OMC also inhibited LPS-dependent DNA-binding activity of AP-1 and NF-kB in RAW264.7 cells. Oral administration of OMC markedly suppressed secretion of TNF-a and IL-6 in mice challenged with LPS in vivo. Anti-inflammatory activity of OMC was confirmed by the inhibition of proliferation and secretion of interferon-gamma (IFN-g), IL-2, and IL-6 from concanavalin A (ConA)-stimulated mouse splenocytes.

CONCLUSIONS:

Our study suggests that oyster mushroom possesses anti-inflammatory activities and could be considered a dietary agent against inflammation. The health benefits of the oyster mushroom warrant further clinical studies.

Nutr J. 2011 May 16;10(1):52.
Barberry (Berberis vulgaris)is an herb which is not often discussed.  Like goldenseal (Hydrastis canadensis) it also contains berberine which herbalists use for its antibacterial properities and to help support the immune system.  The study belows indicates barberry has antioxidant activity which suggest its use would be beneficial for the support of the immune system.
Antioxidant activities of the ethanolic extracts of roots, twigs and leaves of common barberry (Berberis vulgaris L.) and Croatian barberry (Berberis croatica Horvat) were studied. All the extracts were found to possess some radical-scavenging and antioxidant activities, as determined by scavenging effect on the DPPH free radical, reducing power and beta-carotene-linoleic acid model system. With the exception of the beta-carotene-linoleic acid test, antioxidant activity correlated well with the content of main plant antioxidants, phenols and flavonols, which suggests an important role of these compounds in overall antioxidant activity of investigated plant organs. The antioxidant activity varied mostly in relation to the organ, while no significant statistically differences were found between B. vulgaris and B. croatica.

Food Chem Toxicol. 2010 Aug-Sep;48(8-9):2176-80. Epub 2010 May 17.
It is that time of year when dandelions are popping up in lawns everywhere.  It has long been known by herbalist what to do with these plants.  The leaves are a rich source of vitamins, minerals and has diuretic, choleretic and anti-inflammatory actions.  The root has choleretic, cholagogue, tonic, anti-rheumatic, bitter and alterative actions. 
Below is a study supporting many of dandelion's wonderful actions.   
The genus Taraxacum is a member of the family Asteraceae, subfamily Cichorioideae, tribe Lactuceae and widely distributed in the warmer temperate zones of the Northern Hemisphere. The perennial weed has been known since ancient times for its curative properties and has been utilized for the treatment of various ailments such as dyspepsia, heartburn, spleen and liver complaints, hepatitis and anorexia. However, its use has mainly been based on empirical findings. This contribution provides a comprehensive review of the pharmacologically relevant compounds of Taraxacum characterized so far and of the studies supporting its use as a medicinal plant. Particular attention has been given to diuretic, choleretic, anti-inflammatory, anti-oxidative, anti-carcinogenic, analgesic, anti-hyperglycemic, anti-coagulatory and prebiotic effects. Finally, research needs such as quantification of individual Taraxacum constituents and assessment of their pharmacological activities in humans have briefly been outlined.

J Ethnopharmacol. 2006 Oct 11;107(3):313-23. Epub 2006 Jul 22.