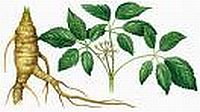 Ginseng is an herb which should be considered when dealing with immune function, psychologic function (stress), and diabetes.  This herb has a long history of use in Asian cultures.  While this article refers to Panax ginseng another plant with slightly different properties which should also be considered is American ginseng. 
The herbal remedies referred to as "ginseng" are derived from the roots of several plants. One of the most commonly used and researched of the ginsengs is Panax ginseng, also called Asian or Korean ginseng. The main active components of Panax ginseng are ginsenosides, which have been shown to have a variety of beneficial effects, including anti-inflammatory, antioxidant, and anticancer effects. Results of clinical research studies demonstrate that Panax ginseng may improve psychologic function, immune function, and conditions associated with diabetes. Overall, Panax ginseng appears to be well tolerated, although caution is advised about concomitant use with some pharmaceuticals, such as warfarin, oral hypoglycemic agents, insulin, and phenelzine. Panax ginseng does not appear to enhance physical performance. Products with a standardized ginsenoside concentration are available.

Am Fam Physician. 2003 Oct 15;68(8):1539-42.

Food for thought before entering the drive through line at the fast food restaurant, is this a good choice?
Although nutrition experts might be able to navigate the menus of fast-food restaurant chains, and based on the nutritional information, compose apparently 'healthy' meals, there are still many reasons why frequent fast-food consumption at most chains is unhealthy and contributes to weight gain, obesity, type 2 diabetes and coronary artery disease. Fast food generally has a high-energy density, which, together with large portion sizes, induces over consumption of calories. In addition, we have found it to be a myth that the typical fast-food meal is the same worldwide. Chemical analyses of 74 samples of fast-food menus consisting of French fries and fried chicken (nuggets/hot wings) bought in McDonalds and KFC outlets in 35 countries in 2005-2006 showed that the total fat content of the same menu varies from 41 to 65 g at McDonalds and from 42 to 74 g at KFC. In addition, fast food from major chains in most countries still contains unacceptably high levels of industrially produced trans-fatty acids (IP-TFA). IP-TFA have powerful biological effects and may contribute to increased weight gain, abdominal obesity, type 2 diabetes and coronary artery disease. The food quality and portion size need to be improved before it is safe to eat frequently at most fast-food chains.

PMID: 17452996 [PubMed - indexed for MEDLINE]

Int J Obes (Lond). 2007 Jun;31(6):887-90. Epub 2007 Apr 24.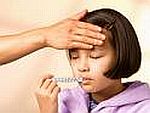 The school season has started therefore the cold and flu season is upon us.  The following information on herbs and vitamins is worth reviewing for the prevention of winter illnesses.
The common cold is the leading cause of doctor visits in the United States and annually results in 189 million lost school days. In the course of one year the U.S. population contracts approximately 1 billion colds. Influenza infection is still a leading cause of morbidity and mortality, accounting for 20-25 million doctor visits and 36,000 deaths per year in the United States. Conventional therapies for colds and flu focus primarily on temporary symptom relief and include over-the-counter antipyretics, anti-inflammatories, and decongestants. Treatment for influenza also includes prescription antiviral agents and vaccines for prevention. This article reviews the common cold and influenza viruses, presents the conventional treatment options, and highlights select botanicals (Echinacea spp., Sambucus nigra, larch arabinogalactan, Astragalus membranaceous, Baptisia tinctoria, Allium sativa, Panax quinquefolium, Eleutherococcus senticosus, Andrographis paniculata, olive leaf extract, and Isatis tinctoria) and nutritional considerations (vitamins A and C, zinc, high lactoferrin whey protein, N-acetylcysteine, and DHEA) that may help in the prevention and treatment of these conditions.

Altern Med Rev. 2007 Mar;12(1):25-48.