A new study published by the Journal of the American Medical Association notes the somewhat alarming increase in opiate overdose mortality, mostly from legal, prescription opiates such as OxyContin. A group of medical doctors and scientists led by Marcus Bachhuber, MD from the Philadelphia Veterans Affairs Medical Center looked at the association between opioid (synthetic opiates) overdose fatalities and state laws legalizing medical marijuana (Cannabis spp). All 50 states were included in the comparison. The results are summarized below in chart form, showing a 20% decline in opiate deaths the first year after legalization, and increasing to around 33% in years five and six after legalization of medical marijuana. Those with access to legal medical pot apparently use less opiate drugs for pain.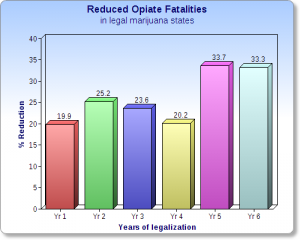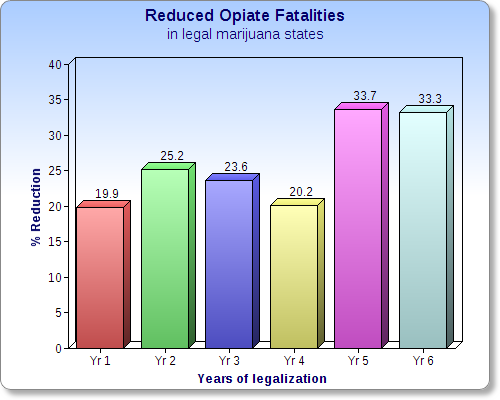 The authors concluded:
Medical cannabis laws are associated with significantly lower state level opioid overdose mortality rates.
Dr. Bachhuber stated in a press release
"In absolute terms, states with a medical marijuana law had about 1,700 fewer opioid painkiller overdose deaths in 2010 than would be expected based on trends before the laws were passed."
Source:
Marcus A. Bachhuber, Brendan Saloner, Chinazo O. Cunningham, Colleen L. Barry. Medical Cannabis Laws and Opioid Analgesic Overdose Mortality in the United States, 1999-2010. JAMA Internal Medicine, 2014; DOI:10.1001/jamainternmed.2014.4005