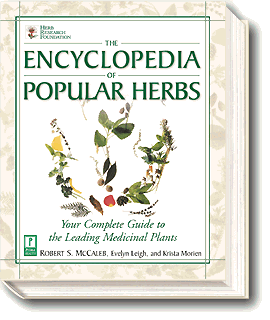 "Both practitioners and patients will find this guide to popular herbal remedies useful. It is authoritative and readable."
Andrew Weil, author of 8 Weeks to Optimal Health
"...a magnificent reference to the appropriate and safe use of herbs...well-grounded in fact and scientific studies."
Michael J. Balick, PhD, Director and Philecology Curator or Economic Botany, The New York Botanical Garden
The Encyclopedia of
Popular Herbs
by Robert S. McCaleb, Evelyn Leigh, and Krista Morien
HRF's critically acclaimed new book!
At last – an authoritative, trustworthy guide to the health benefits and safety of America's most popular medicinal plants! The Encyclopedia of Popular Herbs is a research-based compilation of modern scientific evidence supporting the use of 40 leading herbs. The fully referenced, 451-page book features a unique 5-star rating "state of knowledge" system that allows the reader to assess – at a glance – the amount of research, degree of safety, and level of international acceptance for each herb. Illustrated with full-color photographs and black-and-white line drawings.
This remarkable book includes:
· The latest scientific research and traditional information on herb effects
· Information about using herbs to prevent and treat commone ailments
· Dosage and safety information
· Advice on choosing herbal supplements
· And more!